Podcast: Play in new window | Download | Embed
Subscribe: Apple Podcasts | RSS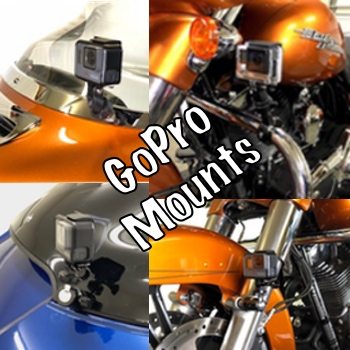 Are you looking for the best GoPro action camera mount for Harley-Davidson motorcycles? Beware of all the cheap GoPro action camera mounts for Harley-Davidson out there on Amazon, eBay, and elsewhere. They are plastic junk, will break after use, and will not give you a solid steady shot. Why mount your expensive GoPro or other action cameras to your Harley-Davidson with a cheap solution? Listen in to this Podcast episode as we discuss in detail our experiences and what the best GoPro action camera mounts are for Harley-Davidson motorcycles. (Affiliate GoPro links used. If you click through and make a purchase we get a small commission)
We have reviewed and tested many American made GoPro action camera mounts for Harley-Davidson and have compiled the best for you. Some of the criteria we used were quality, materials used, ease of mounting, ease of use, looks, and steadiness of the shot.
Biker GoPro Gripper Universal Mount:
First is the Biker GoPro Gripper Universal 7/8″ to 1 1/4″ Round Bar Mount. The Biker GoPro Gripper is one of the most secure devices ever developed to mount your GoPro action camera to any standard sized round bar on your Harley-Davidson. Its full 360-degree rotation allows you to set that perfect angle. The adapter securely holds your GoPro or other action cameras in place with minimal vibration. I have used this for many videos on our YouTube channel.
Ciro 3D GoPro Action Camera Mount for Harley:
The Ciro 3D GoPro Action Camera mount for Harley-Davidson motorcycles is designed to work with any Ciro ball mount and the stud mount fits anywhere there is a 1/4″ hole. Mount your WASPcam and GoPro cameras almost anywhere on your bike. The 1/4-20 threaded studs and mounting hardware are included. This Ciro 3D GoPro action mount holds your camera secure while still allowing great adjustment. It fits WASPcam and GoPro cameras. There is a Harley batwing fairing windshield version and a Harley shark nose windshield version.
Rickrak GoPro Action Camera Mounts for Harley: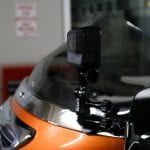 RickRak offers some of the best GoPro action camera mounts for Harley-Davidson on the market. Rickrak offers a windshield GoPro action camera mounting solution in a Harley batwing fairing windshield version and a Harley shark nose windshield fairing version. This mount gives you an array of adjustments to get the shot you want.
Rickrak also offers a Harley fork mount solution for 2014 and newer models. It simply replaces one of your fender bolts. The ball head GoPro mount then attaches to the stud.
Rickrak offers yet another solution, which is the Universal Round Bar Clamp Mount. This RickRak GoPro and action camera mount is easily placed on any round bar with the exclusive Rickrak clamp. It can also be used for Sony action cameras or any standard tripod-mounted device. The clamp has a protective rubber material to assure no scratches are left behind.
Which one is best mount?
I'd recommend any of these GoPro action camera mounts for Harley-Davidson. They are all high-quality well-built products. Each mount has its place and it will all depend on what your particular needs are and what sort of shots you are trying to get. I use all of these GoPro action camera mounts at different times. It is all dependant on the particular film project I'm working on.
New Free Video Announced:
Sponsor-Ciro 3D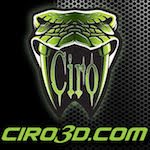 Innovative products for Harley-Davidson
Affordable chrome, lighting, and comfort products
Ciro 3D has a passion for design and innovation
Sponsor-RickRak

The Ultimate Motorcycle Luggage Rack Solution
Forget those messy straps and bungee cords
Go strapless with a RickRak quick attach luggage system & quality bag
New Patrons:
Chad Miller of Lamar, Colorado

Lance Dylan of Wyalusing, Pennsylvania

Joshua Andrews of Beaconsfield, Queensland, Australia

Maurice Zimmerman of North Fort Myers, Florida

Kevin Spackler of Syracuse, NY

Pelle Fredriksson of Lotorp, Sweden

David Martin of Fort Collins Colorado

Marc Povondra of Sequim, WA

Luis Menendez of Orlando, Florida


Join the Free Email Club!
If you appreciate this free information make sure to join the thousands of law abiding bikers that have already joined the free Email Club! You will be notified of new useful motorcycle content and techniques as we put them out. Join the Community now!