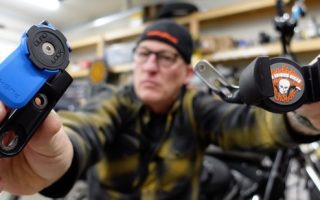 We realize that the Biker Gripper is the best motorcycle cell phone mount on the market and has been for the past 10 years since we first introduced it. We have used it exclusively on our street motorcycles that we have ridden many thousands of miles cross-country. We also use the Biker Gripper on our off-road adventure motorcycles. It's perfect for both environments and has stood the test of time. It's biker tested and biker approved. (watch the video below for all the details)
However, we here at Law Abiding Biker Media are always open to examining and reviewing rivals to the Biker Gripper cell phone motorcycle mount system. To date, we have not found any other mount system that comes close to the strength, looks, build, quality, and functionality of the Biker Gripper.
So, after Quad Lock was spending loads of advertising dollars to push their motorcycle cell phone mount in front of us in our social media feeds, we bought one to handle and test it. Does the Quad Lock stack up to the world's best motorcycle cell phone mount, the Biker Gripper?
Now, I am not here to bash Quad Lock as a company nor maliciously bash their product. I have no affiliatiation with Quad Lock. The below information I provide is solely based on my personal experience with their product and what I gathered from their own website.
The purpose of this article is to give you a detailed and objective breakdown of the Quad Lock and Biker Gripper mount systems. Armed with this information, you can then make an educated decision on which mount is right for you.
Quad Lock Vibration Issues/Damage To Smartphone Cameras? 👉 Made in China 👈
Note: The biggest complaint on Quadlock's website reviews is the vibration in their mount system damaging smartphone cameras internally. 1 star reviews.
We did some research and found that the Quad Lock was actually a Kickstarter campaign back in 2011 backed by a couple of bicyclists out of Australia. The Quad Lock was originally designed for a bicycle environment, not a motorcycle environment. It was sold to bicyclists and at some point, the company wanted to expand its market and decided to try to market it to motorcyclists.
However, Quad Locks' motorcycle mount system has had serious vibration issues over the years, damaging smartphone cameras internally. And so, they've had to try to appease the angry motorcyclists with adaptations, by making a separate part called a vibration dampener that you can purchase for an additional $20.
Now, it seems clear that Quad Lock knew there was a problem with vibrations in their mount system for motorcycles. However, instead of including that part for motorcycle kits, they'll charge you for it. Unless of course, you want to damage your smartphone camera internally. It's also worth noting that all Quad Lock products are made in Chinese Factories.
To be fair, the Quad Lock system and cases seem to be of good quality. However, the cases are plain and bulky, IMO.
Biker Gripper/No Vibration Issues/👉 Made In the USA 🇺🇸
In contrast, the Biker Gripper motorcycle cell phone mount is produced and sold by a company of actual motorcyclists (bikers) and it was designed from the ground up for a motorcycle environment. That's why it has no vibration issues and does not damage smartphone cameras internally.
The reason the Biker Gripper does not have vibration issues is that the gripper arms on the head move independently to absorb shaking and vibration. And, the rubber pad in the base with our logo on it actually provides grip and isolation from high-frequency vibration. Our logo, however badass it is, is a functional component of the gripper head. Also, the ball head system on the Biker Gripper has some give, unlike the rigid mounting system of the Quad Lock. Again, the Biker Gripper was made for motorcycles from the ground up.
And, to our knowledge, the Biker Gripper is the only motorcycle mount system manufactured in the USA and not in China.
Quad Lock Proprietary Cases & Parts/Upsells/Expensive Too! No Chrome?
Quad Lock definitely wants you in their ecosystem (💰💰) of proprietary cases, mounts, and all the parts they upsell you at the time of purchase. To use the Quad Lock system, you'll have to buy and use one of their bulky and plain proprietary cases.
For $105 we bought a Quad Lock iPhone case and a black brake/clutch mount to review directly from their website. Yeah, $105!! Ouch, right? And, if you add that vibration dampener part that they should provide, that costs another $20. Yup, now you're at $125 just to get out the door. And that doesn't include other items you may purchase because of the upsell they do. It could cost upwards of $200. Also, it's actually a bit confusing to try and even find what you need because of all the parts listed.
Really, Quad Lock is as much a marketing company as they are a cell phone mount company. And Quad Lock only has a black option and no chrome option.
Biker Gripper/No Upsells/Black and Chrome/No Proprietary Cases!!/Use Your Own Case/More Affordable
The Biker Gripper cell phone motorcycle mount is available in black or chrome, both brake/clutch/perch mounts and universal bar mounts. It is for street and adventure motorcycles and has been tested over many years now. The universal handlebar mount fits bars 7/8″-1 1/4″ and we have another option for 1 1/4″-1 1/2″ handlebars. We've got you covered. The kits come complete with spacers for the inside of the mount to fit snugly on your handlebars.
The Biker Gripper is so much more affordable than the Quad Lock system. Everything you need is in one kit and there is no confusion or upsells at checkout.
The Biker Gripper is the master of mounts because it does not require a proprietary case or any strange locking system. It's an open system and you can use any smartphone case of your choice or no case at all! And other mount system needs to be stuck on your smartphone or case! I love this about the Biker Gripper and it's one of the only mounts that does not lock you into a particular ecosystem.
Quad Lock is a finicky mount/No landscape or portrait option while riding?/Must set it and forget it/No adjustments while riding?
After spending time with the Quad Lock, I can tell you that it's a finicky system, but you do get a bit smoother with it after practicing. You see, it's a four-tab lock system on the mount and you have to blindly align those four tabs up with the tab cutouts on the case. Once you do that, you then turn it a 1/4 turn to lock the tabs in. Trust me when I say, you'll definitely miss the tab alignment at times, which is a bit frustrating.
Also, you have to use a wrench on a bolt to loosen the adjustment head/mount and set your phone into place. Then you tighten it down and it's stuck there and there are no adjustments that you can make to your phone while riding. So, when that sun glare hits your smartphone screen, you can't even turn it. You are literally stuck with it like that while riding. Unless you want to stop, get out a wrench, and make an adjustment.
Additionally, if you lock your phone into the mount in landscape or portrait, it's stuck there. You'd be hard-pressed to try and press the tab release lever, turn the phone out of the locking tabs, and then try and get it into landscape or portrait position. 1/4 turn through the rotation your tabs are out of the holes and you risk dropping the phone. Or, not being able to lock the tabs back into the position you want. Basically, you need to decide which orientation you want the phone in before you ride.
Biker Gripper/ Very flexible and not finicky!/Easy landscape or portrait adjustments while riding!/Plenty of other adjustments when riding!
In contrast, the Biker Gripper cell phone motorcycle mount has no intricate locking system and is not finicky at all. Yup, easily pull one side or the other on the Biker Gripper head, push your smartphone in, and let the arm go. It comes out just as easy and in literally one second. It's so easy, you can even do it with bulky riding gloves on! It was designed for motorcyclists and that environment.
The arms on the head of the Biker Gripper have 18 lbs grip strength, holding your phone securely with or without a case. We've ridden for 10-plus years with the Biker Gripper on the street and off-road adventure and never had a smartphone come out of the mount. I've personally seen the Biker Gripper mounted to 3 different motorcycles that were involved in crashes and the phone never came out of the Biker Gripper. Yeah, that even surprised me and I had no expectation of such. There are a plethora of awesome reviews and stories in the Law Abiding Biker Store Biker Gripper listings!
Also, because the Biker Gripper is a ball head system, held on by a large wing nut, you can adjust your smartphone with your hand however you want while riding your motorcycle down the road as the ball head allows for movement! You can easily reach down and turn your smartphone to portrait or landscape orientation with ease while riding your motorcycle with zero risk of dropping it, as the entire head turns and the arms keep the phone locked into place! So, when that sun glares on your screen or you need an app in landscape/portrait mode, you have that immediate option. No wrenches or loosening are needed for adjustment!
Quad Lock is rather bulky
You'll immediately notice how bulky the Quad Lock mount system is. That's because they built the adjustment mechanisms into the mount along with the adjustment bolt. So, the mount really sticks out from your brake/clutch area.
Biker Gripper is the sexiest, sleekest, and strongest motorcycle cell phone mount for many reasons!
On the other hand, the Biker Gripper cell phone motorcycle mount is the sexiest, sleekest, and strongest mount on the market. That's because it's crafted in the USA through a patent CNC process using high-quality aircraft-grade aluminum, making it more lightweight, better looking, and most importantly more durable.
The head of the Biker Gripper is injection molded using Dupont Delrin Acetel resin thermoplastic and your electronic device is held securely in place with polyurethane fabric to prevent scratching and four stainless steelsprings with an 18 ­pound grip strength.
The grip range of the Biker Gripper head is 1.9" to 4.2". The Biker Gripper head fits even the largest of smartphones with ease! With or without a case!
Oh, and don't forget we also have our awesome
car dash mount and vent mount
for your car. Because you know, if the Biker Gripper can handle a motorcycle it will work in your car just as well.
Adventure motorcycle riding/Waterproof cases?
The Quad Lock is a proprietary system and they have no waterproof case. But, they will sell you a "poncho" for your phone. And, because you can't use any other case, you can't have a water, dirt, and mudproof case when adventure riding.
With the Biker Gripper, you can use any case of your choosing when adventure or street riding! That's the beauty of not behind locked into the Quad Lock ecosystem of cases and parts.
Wireless charging/Magsafe/The truths and facts
At the time of this article, the Biker Gtripper doesn't offer a wireless charging option. And I use the term "wireless charging" loosely here. To be quite honest, we haven't been really eager to develop it. And, I'll explain why.
First, for a mount head to charge a smartphone, you have to run a charging wire to it for power. So, either way, you either have route a charging cord to plug your phone in or run a charging cord up to the head to have it powered for charging your smartphone. There's not much benefit when you really think about it.
Second, it's actually not good for your smartphone's battery when you place it onto a powered head and charge it every time you mount your motorcycle. It actually degrades the life and health of your smartphone battery. Your battery is only good for so many charges. You should only charge your smartphone battery when it is low and needs to be charged.
I run navigation and many apps on my phone when riding and it uses the battery over time. I just simply plug my phone in when it needs charged. It's not difficult and I have already run the charging cord I use to the Biker Gripper head.
So, charging heads are really not that convenient in my opinion. We may in the future develop one for those that really want one, but I wanted to explain the actual negatives to a charged head.
Final thoughts
The purpose of this article was to simply give you a detailed and objective breakdown of the Quad Lock and Biker Gripper mount systems. Armed with this information, I hope you can now make an educated decision on which mount is right for you.
Ride safe!
Join the Free Email Club!
If you appreciate this free information make sure to join the thousands of law abiding bikers that have already joined the free Email Club! You will be notified of new useful motorcycle content and techniques as we put them out. Join the Community now!