Podcast: Play in new window | Download | Embed
Subscribe: Apple Podcasts | RSS
PODCAST & BLOG-So, have you ever wondered whether you should join an organized type motorcycle club? Or should you just ride and hang out with friends without being an organized club? From much experience, I can tell you,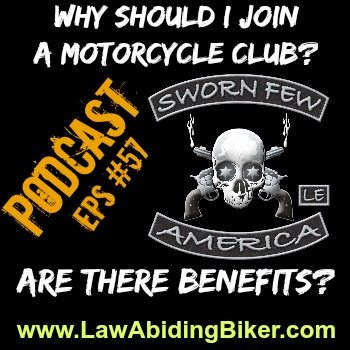 joining a motorcycle club is certainly not for everyone. I encourage every biker/motorcyclist to think heavily before getting involved with a club. In this podcast episode we play a voicemail a listener left for us. It begs the question, are there benefits to starting or joining a traditional organized motorcycle club? We break this down and get into depth on the pros and cons of joining or starting a biker club, so put your helmet on and hang on for this one.
The first thing many think is why would I want to join a club and have to follow all the bylaws and rules when I can just hang out and ride with guys I like? If this is your thought, then maybe you are not ready to join or start a club yet and are exploring. Many are curious if there are any benefits to being involved with an organized motorcycle club?
We would love to hear from you! Get involved now.
Call the listener hotline: (509) 731-3548
Leave a computer voicemail:
General Contact:
I am the President of the Sworn Few MC and involved in this very traditional organized motorcycle club for many reasons, which I will discuss a bit later. I do know groups that just ride together without being organized in a traditional type club sense. It is up to each individual on how they want to roll and what they are expecting or looking for.
Let's first discuss some major differences between a true motorcycle club, a riding club, and a riding group. A traditional motorcycle club is one in which the members wear a leather vest or "cut" bearing a separated 3 piece patch on the back. The top rocker patch is the club name, the center patch is their logo, and the bottom rocker is the city, area, or state they ride in. They follow traditional type bylaws and have a definite chain of command to follow and elected club officers. They have regular meetings and often required attendance for meetings and/or events.
Riding clubs vary a lot, but typically have some sort of structure like a motorcycle club. In a riding club the members don't wear [Read more…]