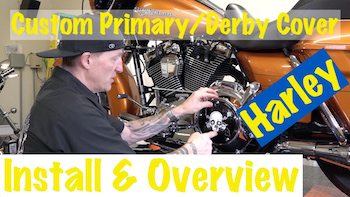 Video-In this video I give you an overview of a custom Harley primary clutch cover (derby cover). It is black, has a logo on it, and were very pleased with the quality of this cover!
LINK TO COMPANY THAT MADE THE PRIMARY COVER: PENDING AT THIS TIME
I also show you how to remove your stock clutch cover and replace it with a custom cover. If you are doing this project on a newer Harley you will likely need a different (older) style clutch cover gasket.
The newer Harleys derby covers are machined differently with an orange rubber type seal around it. Many of the companies making custom primary covers are using the older style clutch covers, which fit just fine, but need more of a traditional flat circular style gasket.
Older flat circular clutch cover gasket:
Videos Referenced: