Choosing the correct touring motorcycle windshield can be a daunting task and that's because there are many things to consider. It doesn't matter if your rolling on a Harley-Davidson, Indian, Victory, Honda, Kawasaki, Yamaha, or another motorcycle. A proper windshield for touring is very important. Let's discuss some of the items to consider when shopping for a windshield and how to assure you make the right decision.
First, these motorcycle windshields or windscreens are not cheap, but thankfully it's usually a one-time purchase for the life of the motorcycle if you choose correctly upfront.
Second, you must decide if you want to look through or over the windshield. The best protection from the elements and wind is a windshield that is taller than your head and that you look through. Most of these style touring motorcycle windshields will be rather flat and clear without a tint as to not distort or lessen your vision when looking through them. Because of this, they don't offer as much style.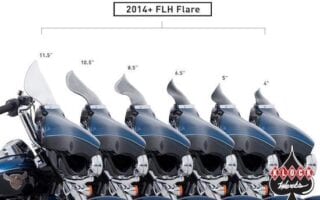 If you appreciate this video and all the free content we put out, please consider supporting us by shopping in the Law Abiding Biker Store! It assures we can continue our mission to help, educate, entertain, and inspire as many bikers as we can worldwide!
In the below video, we mostly discuss touring motorcycle windshields that you look over. Now, just because you look over them does not mean that you will get wind directly in the face. The Klock Werks windshields in this category have a "flare" and F4 customs has a "recurve" at the top that will direct the wind over your head. That's if you choose the right height windshield that allows you to look over it, yet directs the winds over your head. In the video below, we show you how to properly measure, so you can choose the right windshield or windscreen for your motorcycle.
I will mention, that although you will mostly be looking over these shorter types of windshields with a flare at the top, at lower speeds, in places like parking lots, you will have to look down and through them at times. And, the more curves and contours to the windshield, the more distorted your vision will be. It's just something to be aware of.
Last, we keep all our windshields protected and clean by using Bugslide Waterless Motorcycle Cleaner. We have used it for many years and sell it right in the Law Abiding Biker Store. We use it on everything to include windshields, regular paint, denim paint, chrome, seats, helmets, visors, wheels, and anything else you can think of. It leaves a protective microscopic finish that will make bugs and grime come off that much easier. Don't ride without the slide! And for wet washes, we only use Bike Brite Spray Wash.
Join the Free Email Club!
If you appreciate this free information make sure to join the thousands of law abiding bikers that have already joined the free Email Club! You will be notified of new useful motorcycle content and techniques as we put them out. Join the Community now!