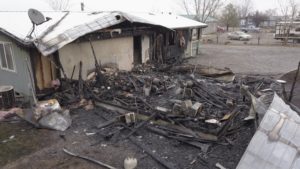 Law Abiding Biker Store-Devastating Fire
On December 18, 2017, at around 3:30 PM the Law Abiding Biker Store storage garage burned to the ground. Every last bit of our store inventory burned in the fire. We are blessed that nobody was inside at the time. The garage was attached to Big Daddy Kane's, who runs the store, house. His house was a total loss too.
We are a bootstrap company and did not have special insurance. Big Daddy Kane's house will be covered by his homeowner's insurance. However, that insurance will cover nothing of our total loss of store inventory.
When it rains it pours and the timing of this fire could not have been worse. We are in the middle of building a new Law Abiding Biker Shop and Studio. We do have a fundraiser for that and you can support that cause here.
This is a devastating blow to Law Abiding Biker Media. After the blood, sweat, and tears we've put in over the last 4 years, we have no plans on giving up. We are fighters and believers in the awesome Law Abiding Biker community. Our mission is to continue to help as many bikers as we can worldwide.
We have every intention of slowly rebuilding and adding products to the Law Abiding Biker Store, so please support us by shopping there.
Ways to help us recover:
Thanks for considering supporting us. We would not be where we are today without the support of this awesome community of bikers.
~ Ryan Urlacher
Helping as many bikers as we can worldwide!
Join the Free Email Club!
If you appreciate this free information make sure to join the thousands of law abiding bikers that have already joined the free Email Club! You will be notified of new useful motorcycle content and techniques as we put them out. Join the Community now!