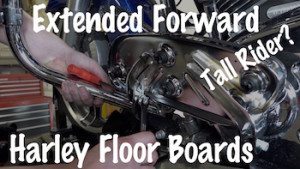 Video-Are you a tall Harley Davidson rider? Want to stretch those legs out a bit and get them forward? In this free video, we show you how to install Harley-Davidson brand forward/extended rider floorboards on a Harley Davidson motorcycle! We really liked the quality of these forward/extended floorboards and we definitely recommend them for bikers.
If you appreciate this free video and information then please purchase a Harley-Davidson product or any other product using our below affiliate links or picture. 
(no additional cost to you, but it helps support).
CLICK ON IMAGE TO SEE EXACT ITEM WE USED!