Save money now. Install highway pegs on your Harley Davidson motorcycle.

Have the pride & satisfaction of working on your own Harley!

Do it in your garage or your workspace right on the kickstand!
Free Video By Bikers for Bikers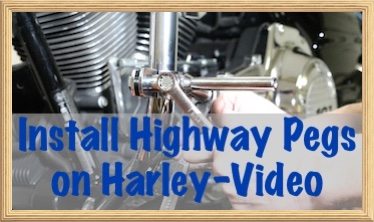 VIDEO-This is a tutorial video on how to install highway cruising foot pegs on a Harley Davidson motorcycle. We used a 2012 Harley Road King for this video, but it is the same for most models & you will definitely be able to do this in your garage or workspace. Start saving your money now by not having to rely on a dealership or motorcycle shop for this project. This video is made by bikers for bikers.
Please consider purchasing any items through our affiliate links at no additional cost to you if you find this Free video & content useful.

If you appreciate free information and techniques like this make sure to join the thousands of law abiding bikers that have already joined the free Law Abiding Biker Podcast & Media Email Club!! You will be notified of new useful motorcycle content and techniques as we put them out. Join the Community now!