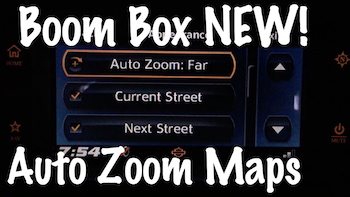 Video-In this completely free video I show you how to use the new GPS map autozoom feature that was added to the Harley-Davidson Boom!™ Box Infotainment System in the last major system software update, which was version 1.20.1. I show where the new map autozoom feature located in the Boom Box settings menu and how get it going. Basically, it allows three different settings to choose from on how close you want the GPS map to autozoom. A rider could manually zoom out to see the overall route and surroundings.  Then after a short time, the GPS will autozoom back in closer to the predetermined setting. Before this feature, a rider would have to manually zoom in after zooming out. The map will also autozoom if you leave the map view and then come back in to view the map.
Save yourself the stress and let me teach you everything you need to know to master the Boom Box system. I'll show you all the tips, tricks, hidden menus and more! Then you can get back out there and ride!
Further Details:
• Autozoom can be configured in Navigation Setup
Appearance menu.
• There are four separate levels based on what zoom level
the map will return to after the autozoom.
i. OFF – Autozoom is disabled (default)
ii. NEAR – It will return to the tightest scale.
iii. NORMAL – It will return to the middle scale.
iv. FAR – It will return to the widest scale.
Join the Free Email Club!
If you appreciate this free information make sure to join the thousands of law abiding bikers that have already joined the free Email Club! You will be notified of new useful motorcycle content and techniques as we put them out. Join the Community now!