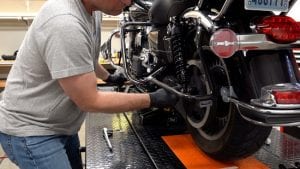 We have installed the Progressive 444 rear suspension for Harley on quite a few bikes over the years and we love them. Because we've used these shocks for quite some time, we recommend them and carry them in the Law Abiding Biker Store. In this video, we show you how to install the 444 rear shocks on a Harley and how to adjust them so you have the proper sag. This model shock, like other Progressive shocks, are offered in different weight ratings.
Justin, here at Law Abiding Biker Media, was not happy with the overall ride of his 2012 Harley-Davidson Ultra Limited, which came with the outdated air-shock system Harley used for so many years on many of its touring models. The stock Harley air shock system leaks over time, which becomes a big frustration for many riders. And it can be dangerous to ride your motorcycle when the shocks lack the proper air pressure.
Another option:
The Progressive 944's Ultra-Touring model is another option and it lowers certain models like Harley Ultras by an inch without losing great rear shock performance. They don't lower models such as the Harley Street or Road Glide Specials as they already sit an inch lower than Ultras.
There are also several different models of the Progressive 944's and it will depend on how much riding weight you'll actually have, so make sure you select the correct model for your needs. Whenever selecting a Progressive shock, you'll want to take into consideration how much luggage you'll load on and whether you're going to ride with a passenger often.
For more details about fitment and lowering, head over to the Law Abiding Biker Store.
After we installed Progressive 944 rear suspension on Justin's bike, he went for a ride and that's when the true test began. Changing your rear suspension on your Harley to the Progressive 444's is an unbelievable change in the overall ride. He is really enjoying how these shocks handle and give his Harley a new feel!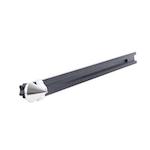 Make adjusting your suspension sag easy, with this Tusk Sliding Sag Scale!
Join the Free Email Club!
If you appreciate this free information make sure to join the thousands of law abiding bikers that have already joined the free Email Club! You will be notified of new useful motorcycle content and techniques as we put them out. Join the Community now!