Podcast: Play in new window | Download | Embed
Subscribe: Apple Podcasts | RSS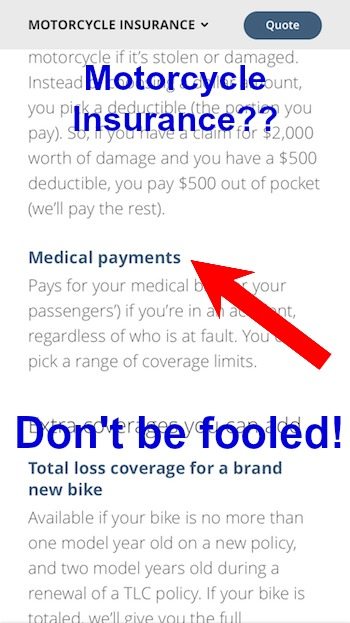 Podcast-In this episode we talk all about the lack of no-fault personal injury protection (PIP) insurance for motorcycle riders in many states. As a motorcycle rider, you likely have no clue you don't have PIP coverage and that could leave you high and dry if you go down on your motorcycle. Of course, insurance companies just want your money and are not going to readily advise you of things like this. In Washington State, insurance companies are not required to provide PIP insurance to motorcyclists and so they don't. Remember, insurance companies are there to make money & they're good at it. How many insurance companies do you see going out of business?
Note: We are not insurance experts, but here's some of what we learned through our own independent research.
Many riders out there get a motorcycle and are so excited that they go down and get insurance quickly and leave, thinking they are properly covered. We've been riding for many years and this subject matter just came to our attention. Wow, we were surprised.
I had an acquaintance go down on his motorcycle when a car pulled out in front of him and he was injured and had to be transported to the Hospital. His insurance agent now felt it was the time to tell him that he had no PIP coverage and he was on his own for all his medical bills. Then his employer provided insurance told him that it was the auto insurance companies responsibility. Meanwhile, all the bills were stacking up.
I did some research and was so surprised that I was just learning of this. In Washington, it's actually State Law that what auto insurance doesn't pick up in an accident, a rider's employer provided insurance is required to take over and cover the bills. That is if you even have decent or any employer insurance at all. If you don't have employer-provided insurance then you are really screwed. Especially, if the other driver is not insured as in this incident.
In this case, the employer insurance company was wrong and put on notice. They quickly realized it is their responsibility per State Law and they are now covering his medical bills, but not without sticking him with deductibles and co-pays.
This is why you really must sit down with your motorcycle insurance agent and ask the tough "what if" questions. Make up situations and question them on what would happen. Your eyes might open very wide at their answers and your lack of coverage.
I also have uninsured/underinsured motorist protection on my motorcycle insurance policy. There are different coverage amounts/maximums depending on your financial needs. If an uninsured driver or someone that doesn't have great insurance is at fault then I am covered that way. So, if the at-fault driver is covered by insurance, but not well, my insurance will pick up the rest of the bill up to my maximums set forth in my policy.
There are insurance companies that do offer some very low-level personal injury coverage similar to no-fault PIP, but they don't call it that. No fault, means that medical bills for the motorcycle rider will be paid, regardless of who's fault the collision is. Beware of this PIP imitation coverage that insurance companies are advising you of and make sure it really is what you are looking for.
New Free Video!
Understand, the maximum for this alternate PIP coverage is very low. We found that you can pay several hundred extra hundred dollars a year for up to $10k no fault injury insurance for your motorcycle. You can pay more, but it seems they will not cover you for any more than $20k. That goes very quick when you are talking about medical bills.
Some riders get that extra PIP imitation insurance in Washington State as a way to have coverage to pay their employee insurance deductibles and co-pays, since the employer insurance is going to have to cover it the medical bills anyways.
If you ride a motorcycle, have no PIP insurance, and you have no employer-provided insurance in Washington State and other States and you go down at your fault, you have zero coverage for your medical bills. Sure, they'll replace your motorcycle, but they could care less about your injuries.
That's a scary reality. I'd suggest you look at alternatives to getting some sort of protection or medical insurance and make sure to ask the tough questions to make sure you are covered should you go down. Make darn sure you have uninsured/underinsured motorcycle coverage. That way if it's not your fault and the other driver is uninsured or underinsured you are covered. Of course, you're covered somewhat if the at-fault driver is insured, but who knows what their insurance coverage limits are. Many motorists carry the bare minimum coverage.
Oh, and what if the causing driver does a hit and run and can't later be located by law enforcement? Yup, another question you should ask your motorcycle insurance agent. Hit and run collisions happen daily in the jurisdiction I work in as a Law Enforcement Officer.
This gets complicated as you can see and we here at Law Abiding Biker™ Media are just everyday motorcycle riders just like you. This is our own independent research and this information was gathered from several different motorcycle insurance providers here in Washington State.
Make sure and listen in to this episode as we get into much greater detail.
Now, do your homework and check what kind of motorcycle insurance coverage you have.
Sponsor-Ciro 3D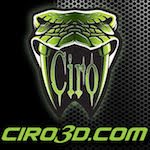 Innovative products for Harley-Davidson
Affordable chrome, lighting, and comfort products
Ciro 3D has a passion for design and innovation
New Patrons:
Doug Pergram of Springfield, Ohio
Bill Flegenheimer
Jim Miller of Susanville, CA
Michael Berryhill of Waxahachie, Texas
Theodore Harris of Laveen, Arizona
TJ Butz of Providence, RI


William Richardson of Hays, KS
John Edwards of Frederick, Maryland
Chadd Winston of Auburndale, FL
Ray Lepore of Lake Ariel, PA
Dave McCall of Smithville, Missouri
Marlon Miller
Join the Free Email Club!
If you appreciate this free information make sure to join the thousands of law abiding bikers that have already joined the free Email Club! You will be notified of new useful motorcycle content and techniques as we put them out. Join the Community now!