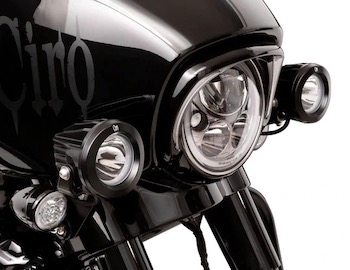 We swapped my chrome Ciro LED Fang Headlight Bezel with a black one to match my Ciro Tac 10 LED Light Cannons on my Harley-Davidson Street Glide Special.
Note: If you appreciate all the free content we put out and want to support us in our mission to help, educate, entertain, and inspire as many bikers as we can worldwide, please consider purchasing from the Law Abiding Biker Store!
HELP SUPPORT US! JOIN THE BIKER REVOLUTION! #BikerRevolution #LawAbidingBiker
🛒 SHOP IN THE LAW ABIDING BIKER STORE 🛒
😎 BECOME A MEMBER AND GET BENEFITS 😎
📹 GET PREMIUM MOTORCYCLE TUTORIAL VIDEOS 📹
🎬 WATCH OUR MOTORCYCLE DOCUMENTARY FILMS HERE 🎬
📺 SUBSCRIBE TO OUR YOUTUBE CHANNEL 📺
🎙CHECK OUT THE WEEKLY PODCAST 🎙
Join the Free Email Club!
If you appreciate this free information make sure to join the thousands of law abiding bikers that have already joined the free Email Club! You will be notified of new useful motorcycle content and techniques as we put them out. Join the Community now!