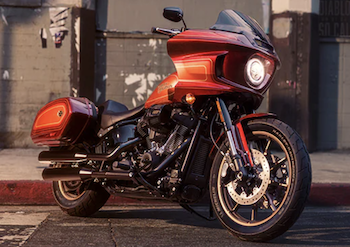 So, yes Harley recently made a deal with the devil. You see, on September 1st, 2022 Harley-Davidson revealed the Low Rider "El Diablo". This new bike is part of their "Icon Collection" they started in 2021 with the release of the Electra Glide Revival. The Icon Collection is inspired by the most recognizable and sought-after Harley models. Harley says they are "iconic rides for modern times." Harley also said they may release up to two icon models each year. Last year they only released one and now we only have one for this year so far, so we'll see if we get a second this year. In the video, I go over exactly what you need to know about the new "El Diablo" with no fluff. I also share some other thoughts. (see detailed install video below)

The first thing to know about the Low Rider El Diablo is that Harley is only producing 1500 of them. Additionally, you have to go to the Harley-Davidson website and go through the reservation process to get on the waiting list. It's uncertain at this point when you'd actually take delivery of your new El Diablo, but it seems it will be in the fall of this year.
HOW IS THE EL DIABLO DIFFERENT FROM THE LOW RIDER ST THAT WAS JUST RELEASED IN APRIL OF THIS YEAR?
Well, the El Diablo is really just a Low Rider ST. The only two things that make it different from the Standard Low Rider ST are that it comes with the Rockford Fosgate fairing audio system and a one-off paint scheme with pin striping. The El Diablo's base price comes in at $28,000, and that is about $6,000 more than a standard Low Rider ST, which comes in at around $22,000. Now, you could buy the regular Low Rider St, and for $1,000 you could buy the same Rockford Fosgate system and install it yourself. Combined with the purchase of the bike that puts you at around $23,000. So, that leaves you with $5,000 to get your own custom paint job on your Low Rider ST. That would definitely be a one-of-a-kind.

But, if you only want the El Diablo paint, then you'll pay the premium price. Also, since the El Diablo is really just a Low Rider ST with the same powertrain, you should definitely check out my very popular ride and review the video of that bike when Harley invited me down to Santa Barbara, CA when it was originally released. See my Low Rider ST ride and review video HERE.
If you see an El Diablo test ride video in your feed, it will be exactly the same as the Low Rider ST test ride videos like mine that came out back in April.
LET'S TALK ABOUT THE $5,000 PAINT JOB ON THE EL DIABLO
Harley is calling the paint "El Diablo Bright Red and El Diablo Dark Red Metallic Fade". There is "pale gold" pinstriping throughout the bike. Harley used a tinted clearcoat to create a "candy effect". That all comes together with a black powertrain and the bronze wheels we've come to expect on Low Rider models. The Low Rider El Diablo motorcycle paint is hand-applied by the artisans at Gunslinger Custom Paint in Golden, Colorado.
WHAT IS HARLEY SAYING ABOUT THE EL DIABLO?
"The Low Rider El Diablo is a modern expression of the iconic 1983 Harley-Davidson FXRT and a representation of the creative times it was born in," said Brad Richards, Vice President of Design and Creative Director for Harley-Davidson. "It embodies the spirit of counterculture in Southern California in the '80s in a contemporary package that features meticulously crafted custom paint, including pinstripe trajectories that nod directly to those of the original FXRT."
WHY WOULD SOMEONE BUY ONE OF THE 1500 EL DIABLOS THAT WILL BE PRODUCED?
Really, it comes down to personal preference. You may want it as a future collectible. Or, you really love that paint scheme. Otherwise, you'd buy a standard Low Rider ST, put the stereo system in, and get it custom-painted yourself.
WHAT DO I PERSONALLY THINK ABOUT THE EL DIABLO?
I think it is a badass-looking bike and I think Harley nailed it with the paint scheme. I think it is a good representation of the FXRTs of the past. If money was not an issue, I'd certainly pick one up.
Now, there are some crazy things going on with Harley-Davidson, the EPA, and FTC in addition to several lawsuits Harley is facing. View our must-watch video on this topic as it affects all Harley owners now and into the future. You can see it HERE.
HELP SUPPORT US! JOIN THE BIKER REVOLUTION! #BikerRevolution #LawAbidingBiker #Bikaholics
🛒SHOP IN THE LAW ABIDING BIKER STORE 🛒
😎BECOME A MEMBER AND GET BENEFITS 😎
📹GET PREMIUM MOTORCYCLE TUTORIAL VIDEOS 📹
🎬WATCH OUR MOTORCYCLE DOCUMENTARY FILMS HERE🎬
📱SHOP OUR AMAZON RECOMMENDED PRODUCTS 📱
🎙CHECK OUT THE WEEKLY PODCAST 🎙
Join the Free Email Club!
If you appreciate this free information make sure to join the thousands of law abiding bikers that have already joined the free Email Club! You will be notified of new useful motorcycle content and techniques as we put them out. Join the Community now!