Podcast: Play in new window | Download | Embed
Subscribe: Apple Podcasts | RSS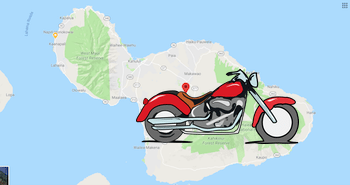 Podcast-In this episode, both Popeye and I talk about our recent experiences with renting a Harley and riding in Maui, Hawaii. We actually went completely separate times and had different experiences. We were just talking about it for the first time on this episode. The cool thing is that we both rode somewhat different routes. Popeye has also ridden another Island and tells you which experience was better.

There are some rather unimproved roads in Maui and certain roads require a bit more riding experience. Don't worry, there are also plenty of easier roads and we'll give you the details based on your riding experience.
We discuss in depth how our Harley rental experience went. We provide you with some best practices, tips, and tricks if you are going to rent a Harley in Maui.

We highly recommend that if you are going to visit Maui to rent a Harley and spend a day riding the Island. There are some beautiful roads and scenery and you'll never forget the experience.
So, take a listen and see if riding Maui is on your "must ride" list.
My Ride: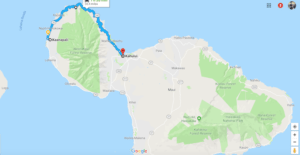 I was riding with my 12-year-old daughter and opted out of the long and popular Hana Highway (Hwy 360) this time around. I didn't just want to hammer down all day like I'd do by myself.  I figured I can do that ride next time I go to Hawaii.  I rode out of Kannapali to the north around Hwy 30 up around the top of the Island and planned to keep going back down the east side of the Island along Hwy 340 into Kahului. However, up around the Nakalele Blowhole they had the road shut down due to construction.
This would normally be about a 1 1/2 hour ride with no stops. But there are plenty of sights that you'll want to stop see along the way.
We had to turn around and go back down Hwy 30 along the west side of Maui and crossed east along Hwy 380 into Kahului. This was a beautiful ride and we really enjoyed it. We ate at Da Kitchen located at 425 Koloa St., Suite 104 Kahului, HI 96732. It was featured on the Food Networks show Diners, Drive-Ins, and Dives. The food was outstanding and I highly recommend it.
Popeye's Ride: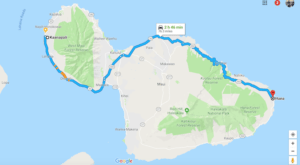 Popeye had his wife along and she can hang in the saddle a bit longer than my 12-year-old daughter. They opted to ride out of Kaanapali and did ride the famous Hwy 360, Hana Highway. They really liked the ride and said it was beautiful, but expect isolated rain as it's a rainforest.
Also, that ride for them was about 3 hours one way with no stops (77 miles). Ad another 3 hrs to return and you're looking at 6 hours saddle time with no stops. And there are a ton of stops along the Hana Highway and you'll likely want to eat at some point. So, that is a super long day, so just understand that if you choose that ride.
Additionally, after riding the Hana Highway, they rode up the east side of the Island to the north out of Kahului along Hwy 340 and their plan was to continue around the north side of the Island via Hwy 3o. This is the way my daughter and I tried, but the opposite direction. Well, they too were stopped by the road construction and turned around.
Riding this additional loop would add an additional 1 1/2 hrs to the ride with no stops. Again, there are things you'll want to stop and see in my opinion. Popeye and his wife didn't do much stopping and just laid down miles. If you are going to do both of these routes in one day, then just plan on throttling down with very little time to stop.
You'll have to decide if you want to just plain ride or have some time to stop and see things.
Further on Hana Highway:
Although Hāna is only about 52 miles (84 km) from Kahului, it takes about 2.5 hours to ride when no stops are made as the highway is very winding and narrow and passes over 59 bridges, 46 of which are only one lane wide. There are approximately 620 curves along Route 360 from just east of Kahului to Hāna, virtually all of it through lush, tropical rainforest.
New Free Video:
Sponsor-Ciro 3D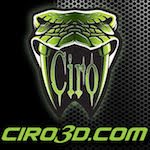 Innovative products for Harley-Davidson
Affordable chrome, lighting, and comfort products
Ciro 3D has a passion for design and innovation
Sponsor-RickRak

The Ultimate Motorcycle Luggage Rack Solution
Forget those messy straps and bungee cords
Go strapless with a RickRak quick attach luggage system & quality bag
New Patrons:
Paul Klomp of Nibley, UT

Wallace Moss of Albuquerque, NM

Chuck White of Rising Sun , MD

Robert Harris of GLEN ROCK, PA

Kenneth Thrasher of Casa Grande, AZ

Richard Reynolds of Binghamton, NY


Ron Anderson of TOLEDO, OHIO

William Greene 

David Blakely of Miamisburg, OH

Charles Hairell of Brier, WA

Gary Jackson of Valentine, NE

Brady Dehn
Join the Free Email Club!
If you appreciate this free information make sure to join the thousands of law abiding bikers that have already joined the free Email Club! You will be notified of new useful motorcycle content and techniques as we put them out. Join the Community now!