VIDOE & BLOG-I think it is fair to say that every Harley owner knows that Harley dealer parts are over priced and cringe when paying. There are just some Harley dealer parts that after market companies don't make, or don't make as well. There are however many companies out there that sale very high quality parts and accessories for Harley Davidson Motorcycles.
In my many purchases of Harley dealer parts I came across one that stands out for the value of what you are getting; Harley Davidson Boom Audio High Quality Performance Fairing Speakers. I bought these speakers last summer for my Street Glide and am very pleased.
I must say that for a price of around $150 these speakers blow away the stock Harley touring model speakers by a long shot without any amplifier to install. A Sworn Few MC (www.swornfewmc.com) brother of mine bought them before I did and we parked our bikes next to each other. I could not believe the sound difference between his speakers and my stock Harley speakers and had to inquire further about them. After learning the price and that no amplifier was installed, I just had to have a pair. The speakers look very sharp once installed and are a two part speaker; the main speaker and a separate front tweeter.
The speakers are plenty loud heading down the freeway and there is no need to even turn your volume all the way up. At a stand still in town you could really annoy your club brother your riding with or other persons. Yes, one of my Sworn Few MC (www.swornfewmc.com) brothers has to be told to "turn them down" in town, but I will not reveal his name. We in the Sworn Few LEMC all know who he is and we tell him that not everybody likes his music……………It would be boring I guess if we ever didn't have to tell him. 
Installation:
I happen to be pretty mechanically inclined, but don't worry if your not. You don't need to pay a Harley mechanic at expensive hourly rates to install these bad boys.
You need basic wrenches and screwdrivers, but nothing specialty for the install. There is no soldering of any sort and the speaker wires plug right in to where you remove your stock speaker wires. They are truly ready to go.
All you have to do is remove your fairing, which is a series of a few bolts and it comes right off with ease. You then simply remove your old speakers and replace them with the Boom Audio speakers. Plug them in and replace the faring and you are ready to rock!
Give yourself about 1 hour for the install and another hour or so to sit on your bike and listen to them in your garage. Oh, don't forget to go get the wife, so she can hear them too. Oh heck, maybe grab a neighbor or two also.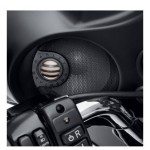 Here are two videos I did on how to take your stock Harley speakers out and install the Boom Audio Speakers!