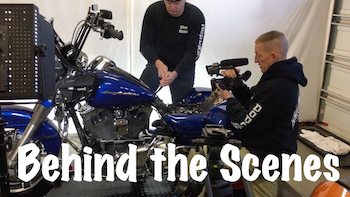 Come behind the scenes with us a bit here at Law Abiding Biker Media. Join us in the garage/film studio as we crank out another video for all you Bikaholics.
We had a 2015 Harley Road Glide on the motorcycle lift for you all. We were filming a complete install of a Harley Davidson Boom Audio Stage 1 & 2 front speaker and amp kit.
We show you a bit about all the work that goes on behind our videos along with the cameras and lighting. We started years ago with nothing more than a cheap handheld camcorder and smart phones. Wow, have we progressed from those days.
With a ton of hard work and support from the community we have much more professional equipment now to film videos. And our filming and post productions skills have developed.
The Harley Davidson Boom Audio Stage 1 & 2 Amplifier & Speaker Kit Install Video will be out in the near future and you can check below for availability.