Podcast: Play in new window | Download | Embed
Subscribe: Apple Podcasts | RSS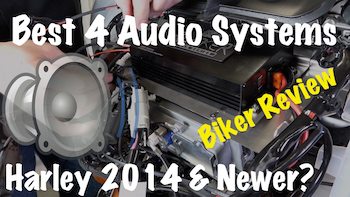 Podcast-Upon popular request from our audience, we will discuss & review four major brand name speaker and amplifier systems for replacing the stock Boom Audio speakers & adding an amplifier on 2014 & newer Harley-Davison touring motorcycles equipped with the Boom™! Box Infotainment system.
We have spent time with each of these audio systems and have tested them heavily in many different real world environments. We are bikers through and through, so our tests are for the average day to day biker out there. We did not test in some sterile controlled environment like many manufacturers do.

Sponsor for this Episode: (Biker Supporters!)
The four systems we are comparing are: (2014 & newer touring models)
Note: If you appreciate this information and it is helpful, please consider purchasing any amp and speaker kits through one of our below affiliate links. No additional cost to you, but we get a small kickback should you click through and purchase. It helps us bring more content like this to the biker community!
New Free Video:
Purchase any Amp & Speaker Kit through our affiliates!
(No additional cost to you, but you can help us out by using the link)
New Patrons:
Gary Anderson
Ray Walters of LaVista, Nebraska
Chris Chitwood of Fayetteville, Georgia
Paul Dillman of Winter Springs, FL
Edward Lake of Watsonville, CA
Tim Allard of Milford, NH


Renee Foglio of Tabernacle, NJ
Michael Lysik of Yorba Linda, CA
Dennis Jones of Apple Valley , CA
Join the Free Email Club!
If you appreciate this free information make sure to join the thousands of law abiding bikers that have already joined the free Email Club! You will be notified of new useful motorcycle content and techniques as we put them out. Join the Community now!