By Bikers For Bikers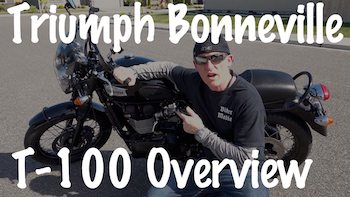 Video-In this video, we give you a detailed look and overview of a 2015 Triumph Bonneville T100 motorcycle. This bike actually belongs to Rick "Big Daddy" Kane here at Law Abiding Biker™ Podcast & Media. He recently purchased it as a fun little secondary bike for short rides & for it's vintage look and history. He rides a Harley-Davidson Ultra Limited for his touring motorcycle. Because this is now last years model you can pick this Triumph up from a dealership for about $7,500.
The Bonneville looks vintage of course but has up-to-date technologies.  It has two-pot calipers squeeze single-disc brakes with the help of braided-steel lines. It has modern double throttle bodies for the electronic fuel injection that are made to look like carburetors for that vintage look.
The T100 has spoke wheels both front and rear, two-tone paint, fork gaiters, & peashooter pipes. It's equipped with KYB adjustable shocks.
The T100 has an 865cc air-cooled parallel twin fuel-injected motor and delivers 59 hp.


This would bike would be a great motorcycle for a beginner or entry level rider and it has a pretty good price point. Or in this case, a great fun secondary bike to ride due to the eye-catching vintage style.  It is a fun little bike and Big Daddy enjoys short rides or around town on it. It's definitely not suited for long rides. The bike could handle it, but you likely couldn't.
During my test ride, I did some threshold emergency braking tests. This bike does not have ABS & has a very light rear end. The rear tire locks up during emergency braking with very little pressure applied to the foot pedal. Beware of emergency braking [Read more…]