By Bikers For Bikers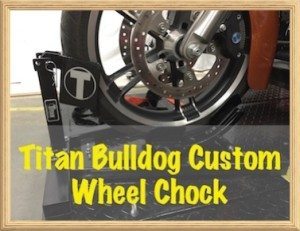 After we released our very popular review & tutorial video on the Titan 1000D Motorcycle & ATV Lift Table, Titan Lifts reached out to us directly. They sent us a Titan Bulldog Custom Profile Motorcycle Wheel Chock, 2 quick detach base plates, narrow tire adapter pads, tie down extension arms, & tie down straps. We thank Titan Lifts for believing in their product enough to send it to us for review & inspection in a real world environment for the day to day biker. They obviously care about the law abiding biker community. The Titan Bulldog Wheel Chock & accessories work as a stand alone unit & can also be used right on your Titan motorcycle lift table!
We are an authorized Titan Lift Distributor, so visit our store.

We can assist you with any Titan product you may be interested in.
We see the Titan Bulldog Motorcycle Wheel Chock as unique & we have used and see many motorcycle wheel chocks. With its dual action EZ-Load rocking and Cam Clamping design cradle, this wheel chock is unique to all others on the market today. Utilizing the same patented design, the Titan Bulldog Custom Profile Cradle Wheel Chock has a shorter cradle to accommodate bikes with long custom fenders.
This chock is required for 2014 & newer Harley touring models. Will work with pre-2014 models.
We have used this chock with a 2014 Indian Chieftain and it works great. Plenty of clearance.
Break Down of Items
Titan Bulldog Custom Profile Motorcycle Wheel Chock ($259.99): This item is delivered in three parts, the base, front post, & the wheel cradle. All the hardware to put it together is included, however the paper instructions are lacking. You'll want to watch our Titan Bulldog Tutorial Video for sure to assemble it.
2 Quick Detach Base Plates ($29.99 each): These two base plates can be mounted to your existing Titan motorcycle lift table. The base plates come with all the hardware to mount to your lift table, trailer, or any other location. You will need additional hardware if drilling into your garage concrete floor of course. These base plates allow you to easily move & use the Titan Bulldog Wheel Chock system in multiple locations.
Narrow Tire Adapters ($34.95): The standard Titan Bulldog Motorcycle Wheel Chock will fit wheels from 13″-22″ in diameter & tires widths from 70mm to 140mm. The narrow tire adapter pads fit right over the existing wheel cradle side plates to allow bikes with narrow tires to be properly stabilized.
Tie Down Extension Arms ($64.95): These are a very nice addition & are long tubular arm extensions that fit on each side of the base frame. The extension arms lock in with pins that come with them. On the end of each arm extension is an eye bolt that will allow you to use tie down straps, which we always recommend when wrenching on motorcycles. These extension arms also stabilize the entire Bulldog Wheel Chock system when a bike is in it.
Tie Down Ratchet Straps ($59): These straps are very thick & wide. They have large ratchet mechanisms for tightening and have rubber handles. We were using some cheaper straps before these & they don't even compare. There is a soft wrap around a portion of the strap for going around your motorcycle handlebars, eliminating rub or strap marks on your beloved motorcycle.
Review & Information
All the listed items are of great quality and very sturdy. It does not appear that any corners were cut in production. The welds are solid & the entire unit has a black powder coat finish. All the necessary assembly hardware, such as bolts & pins are included. The paper instructions are lacking information & not well written, so you will want to view our Titan Bulldog Tutorial Video for sure.
Using the wheel chock on our existing Titan 1000D Motorcycle Lift Table
We first tested the Titan Bulldog Wheel Chock on our existing Titan 1000D Motorcycle Lift Table. The table comes stock with a front wheel vise system and it works fine. However, putting a motorcycle on the lift table yourself requires you to dismount, hold the bike upright with one hand, and crank down the wheel vise at the same time. The Titan Bulldog eliminates this problem as once you put your front tire into it the bike is locked in solid. You can then easily dismount and there is no worry of your motorcycle tipping over.
To install the Titan Bulldog Wheel Chock on our existing lift we used one of the quick detachable plates. We removed the stock front wheel vise system and with the bolts provided mounted the plate at the front of the lift. We put the Bulldog wheel chock into the quick detach plate and were good to go. We did note that you must remove the rubber end caps on the base frame or it will interfere with the quick detach base plate system as the unit will sit too high. Having the extension arms on  with rubber end caps made no difference when on the lift or with the quick detach plate as the metal tube is smaller and fits inside the base frame tube. We are going to leave the tie down arm extensions off when using the system on the lift, so there is less in our way & they are not technically needed. The lift table already has eye bolts for tie down straps.
Riding your bike upon to the lift and right into the wheel chock is a breeze. You will immediately feel the front wheel lock in & a feeling that the bike is completely secure for you to dismount. The bike will wiggle side to side as is usual for wheel chocks, but it is minimal compared to others we have tried and is very secure. We always promote the use of additional tie down straps when wrenching on your motorcycle for safety. We encourage this whether on a lift table, jack, or in a wheel chock on the garage floor.
With a couple good tugs while straddling or aside your motorcycle you will be able to pull your front wheel from the chock. We did find that when using on the lift table this is the point of no return so to speak. As soon as the Bulldog Wheel Chock rocks back and releases its grip of your front tire your rear wheel will be on its way down the lift ramp, so be ready to go!
Using on a garage floor or ground
While using the Titan Bulldog Wheel Chock on the concrete garage floor we did note that when trying to drive a full size Harley Davidson Street Glide into the wheel chock it would slide across the floor. We have found this to be standard with wheel chocks on the market. We even put the wheel chock up against the back of a lawn tractor and tried to get the front wheel in it, but it pushed the entire wheel chock system and the tractor across the floor without getting close to locking the front wheel in.
There are other videos showing the Titan Bulldog Wheel Chock on a cement garage floor without having it bolted down or up against anything & it works without a hitch. However, note that they are using much lighter motorcycles. You will definitely need to bolt a quick detach base plate into your garage cement floor if using it with a large cruiser style motorcycle such as a Harley Davidson. This is not a mark down in our rating as we have found that other motorcycle wheel chocks do the same thing and it is just simple physics.
If you don't want to drill into your concrete floor or you are outside on gravel you can use a 2 foot wide by maybe 6 foot long piece of plywood & bolt the motorcycle wheel chock to that. By the time the front wheel gets to the chock the back wheel is on the plywood, thus holding it down, so it doesn't slide (push) the wheel chock forward.
Now that we have the Titan Bulldog Custom Wheel Chock mounted on our existing lift.  It will stay there and is an upgrade from the standard wheel vise system that came on our Titan 1000D Motorcycle Lift Table. I put another quick detach plate in the trailer for situations requiring us to trailer a bike.
Titan Bulldog Custom Profile Wheel Chock & Accessories
Summary
Overall, we love this custom wheel chock & accessories. It is different than many other cheaply built motorcycle wheel chocks on the market with its EZ-Load rocking and Cam Clamping design cradle. It is built sturdy & has a nice black powder coat finish. It assembles fairly quickly & all the hardware comes with it.
We really like the fact that is is immediately ready for different applications & can be moved easily from a lift table to a trailer using the quick detach plate system. It adapts perfectly to our Titan 1000D Motorcycle Lift Table. We replaced the stock wheel vise and put the wheel chock in its place. The motorcycle feels solid when rocking side to side while in the wheel chock.
The tie down arm extensions are a nice addition giving the overall unit more stability while on a garage floor & adding eye bolts to use with tie down straps. The arm extensions easily remove with the provided pins for other applications.
If you are looking for a motorcycle wheel chock system then we think the Titan Bulldog Custom Profile Wheel Chock & accessories is definitely a good option.