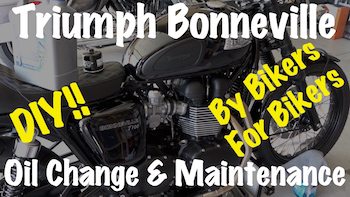 In this completely free DIY video, we show you how to complete a routine oil change, maintenance, and safety inspection on a Triumph Bonneville motorcycle. You can do it right in your very own shop or garage right on the kickstand.
No need to waste your money taking it to a dealership to have this done, as we make it super easy for you to understand. There is nothing like the satisfaction of wrenching on your own Triumph motorcycle.
This video will likely work for all 2009-2015 Triumph motorcycles to include the Bonneville, Thruxton, and Scrambler.