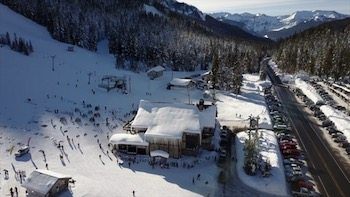 It has been just plain cold here in the Yakima, Wa area for about 4 weeks straight now. We have gotten quite a bit of snow and near zero temperatures. The roads are not good and riding our motorcycles has been impossible. We haven't even seen the sun for some time and we're feeling cooped up!
Oscar and I from Law Abiding Biker Media decided to take matters into our own hands and get out of the house. We decided to take a trip to White Pass, WA for a snowboarding day! We broke above and out of the low cloud/fog inversion and it was warmer on the snowboarding slopes then it was in town!
SUPPORT US ON PATREON IF YOU APPRECIATE THESE VIDEOS. GET EXCLUSIVE ACCESS AND BENEFITS!
The most interesting thing about this trip is that Oscar has not been snowboarding since 2006. I snowboard yearly, so I'm good to go.
Yes really, Oscar's snowboard is the same one he rode in the 90's. It has a pointed tip and is directional. The bindings are also old school and likely not eve legal. LOL. Oscar put Bike Brite Moto Glaze motorcycle wax on his old school board and tried to sharpen the edges himself.
Come see me heckle Oscar in this vlog and spend a day with us on the slopes. We had a blast and it took our minds off not being able to ride our Harley's.
At the end of the day we had to head back into the low clouds, fog, and near zero temps…….