Podcast: Play in new window | Download | Embed
Subscribe: Apple Podcasts | RSS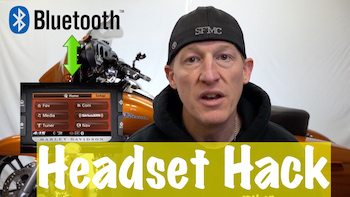 Podcast-In this episode we talk about the inability of the Harley Boom!™ Box Infotainment system to pair "directly" with a wireless Bluetooth motorcycle headset. We speak the truth based upon facts, research, & testing that was done. We discussed all of this via a Live Blab session. On the mics with me were Rick Kane of Law Abiding Biker™ and Community Patron Member Darwin Cheng of California. These are the kind of things that go on in the forums in the Private Patron Only Facebook Group!
Related Video & Article: NEW-WIRELESS BLUETOOTH BOOM BOX HEADSET!
Harman Kardon, the maker of the Boom Box system for Harley-Davidson, never intended it to work directly with wireless Bluetooth headsets. They only created it with a hands-free profile (HFP) to work wirelessly with things like smartphones and MP3 players. It was not created with a headset profile (HSP) to work with wireless Bluetooth headsets and those are the facts.
Our #1 Recommended Wired Harley Headset of Choice for half helmet, full face helmet, 3/4 helmet, and modular helmets (The best & most affordable "wired" option for full headset/Boom Box functionality & a fraction of the price of a headset with "Harley-Davidson" stamped on it)

Sponsor for this Episode: (Biker Supporters!)
New Patrons:
Max Butcher of Nashville, IN
Matthew Head of Gold Coast, AustraliaL
Rick Kemner of Troy NY


Tim Allard of Amherst, NH
Alejandro Guevara of Hialeah, FL
Anthony Perin of Battle Creek, MI
Biker Gripper Custom Mounts
Several models to choose from