Podcast: Play in new window | Download | Embed
Subscribe: Apple Podcasts | RSS
Pod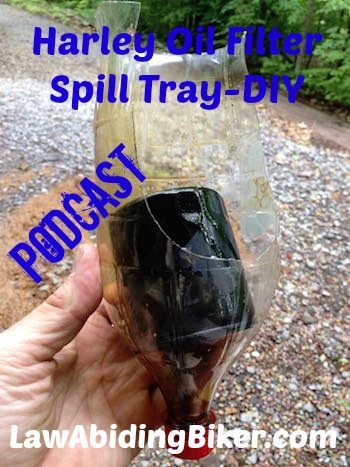 cast-In this episode Cuz is in the studio with me and it's been a while since he's been on a mic. We talk about his 2012 Harley-Davidson Road King and some of the immediate projects he wants to do. He is thinking of putting a detachable batwing fairing on it and he has researched multiple companies. We also talk about the pros and cons of 16″ ape hangers versus smaller 14″ ape hanger handlebars.
Much information sharing goes on over in the Private Patron Only Facebook Group! It is really better than any motorcycle forum out there, as you know the people in the group and who is actually giving you advice and tips. In the group, there is a "search" bar. Any topic can be searched and it will result in all discussions and information on a related topic.
We shared a very cool, cheap, and easily made Harley oil filter spill tray using a plastic liter-sized pop bottle. Patron James Dimitrious is to thank for sharing this little DIY project in the private Patron Only Facebook Group. If you are one that doesn't like to drip any oil from the filter onto the frame then this is for you.
The only way to get in the Private Patron Only Facebook Group is to get signed up as a Patron and support this platform.

Sponsor for this Episode: (Biker Supporters!)
We also handle a voicemail from Corey Williams of Oklahoma. He wanted to know which civilian model of portable breathalyzer test (PBT) we recommend. Each rider chooses whether to consume an alcohol beverage(s) when riding. You certainly need to make certain you are safe and within the laws. We recommend using an Alcohawk PT500. You can get an Alcohawk PBT using our affiliate link. No additional cost to you, but it helps support us should you click through and make a purchase.
New free videos!
Email we covered:
From Ken Nola of Orlando, FL (Donated in thanks for a free YouTube video we put out and saved him money)
Thank you so much for the detailed and easy to follow tutorial on the 7 pin audio connector. I would have never tackled this project without your video. Only difference is I wasn't confident enough to do it without covering the tank and front fender. I didn't have a dental tool to put the ground wire in the connector but used a paper clip that worked fine after several tries.. I also used velcro to attach the plug to the tank so it would be easier to remove if necessary.

The dealer I bought the connector from wanted 2 hours labor to install. That seemed a little much and they described it as a big job. That was fine until they seemed unsure answering my questions. I left there feeling like they were going to be experimenting on my bike. I had to find a better way. Went home and started poking around on Youtube and found your channel.

Ended up taking me a couple of hours taking my time as I had never had the bike apart before. It could easily be done in under an hour by anyone with some experience and the necessary tools at their fingertips.

Thanks again for saving me a bunch of $$$ and taking the time and energy to produce these tutorials.
New Patrons:
TJ McGill of Jamaica Plain, MASSACHUSETTS

Doug McMillan of Alpharetta, GEORGIAShelton Dawkins

Jason Peterson of Farmington Hills, MICHIGAN
Christopher King of Pflugerville, TX
Corey Williams of Commerce, OK
Chad Rosenboom of Denton, TX


RECENT FINANCIAL SUPPORT WHEN OUR WEBSITE WENT DOWN
Daniel Jaffurs of Santa Ana, CA
Ray Maurer of Fisher, In
Darrell Unger of Delta British Columbia
Gregory Dillard of Glendale, AZ
Yannick Lamontagne of Gatineau, Quebec
John Lembke of Los Angeles, CA
Colin Caddell of Hollister, CA
Mark Arnold of Edmonton Alberta
Danny Lazenby of Memphis, TN
H.K. Dawkins & Son of Morgantown, WV
Russell Roberts of Gallatin, TN
Charles Petritz of Nixa, Missouri
Join the Free Email Club!
If you appreciate this free information make sure to join the thousands of law abiding bikers that have already joined the free Email Club! You will be notified of new useful motorcycle content and techniques as we put them out. Join the Community now!