Podcast: Play in new window | Download | Embed
Subscribe: Apple Podcasts | RSS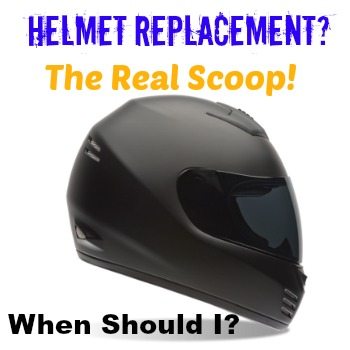 Podcast-We received a computer voicemail from David Schwarz of Israel and that spurred this very podcast episode. David wondered if there is a standard or a specific time frame on when we should be replacing our motorcycle helmets. So, we busted our butts like usual for you Bikaholics out there and researched this very topic.  We came up with some surprising information & best practices for you. As usual, you'll really need to listen in to this podcast episode to get all the specific details. We also talked about several other things, but this was the main topic.
A Must Listen to Podcast Episode & Article on Motorcycle Helmet Ratings and Testing: (Get in the know)
Do as you like for your personal safety or course, but we believe that our information here is cutting through all the smoke and mirrors for you. Certainly helmet manufacturers would like you to replace your helmet often, as it is a huge industry.
Sponsor for this Episode: (Biker Supporters!)
There are a ton of myths out there. No, if you drop your helmet you don't need to replace it, within reason. If you drop it from an 8 story building, then it has endured a significant impact, so by all means replace it. If you simply drop it out of your hand or off your bike, then be realistic, the helmet is fine. It may have a scratch, but that is cosmetic. If you are involved in a motorcycle collision and you actually impact the helmet with some force, then certainly replace it.
You should treat your helmet with some respect and care for it properly, which will ultimately extend its life. This includes storing it in a cool dry place. Don't leave it out for long periods baking in the direct sunlight.  Keep your helmet away from petroleum-based products such as fuel, cleaners, and paint. If you notice the helmet getting loose in fitment, some of the lining is coming out, or it leaves little black flakes in your hair, then it's time to replace it. I know, this all seems to be common sense and it is.
A general rule is that a motorcycle helmet will last for about five years with regular usage. The glues, resins and other materials used in the making of the helmet can lose their effectiveness and also deteriorate the lining.  Another reason to replace your helmet every five years is that helmet technology is always advancing and a new helmet is going to offer more protection.
Here is from the Snell Foundation website, which is very reputable when it comes to motorcycle helmet safety standards.
The five-year replacement recommendation is based on a consensus by both helmet manufacturers and the Snell Foundation. Glues, resins and other materials used in helmet production can affect liner materials. Hair oils, body fluids and cosmetics, as well as normal "wear and tear" all contribute to helmet degradation. Petroleum based products present in cleaners, paints, fuels and other commonly encountered materials may also degrade materials used in many helmets possibly degrading performance. Additionally, experience indicates there will be a noticeable improvement in the protective characteristic of helmets over a five-year period due to advances in materials, designs, production methods and the standards. Thus, the recommendation for five-year helmet replacement is a judgment call stemming from a prudent safety philosophy.
At the end of the day, you really just need to ask yourself one question. Is my helmet in good shape and will I trust it to protect my head should I become involved in a motorcycle collision? After all, it's your head………….
New Law Abiding Biker Video Release!
New Patrons:
Tim Valdez of Arvada, CO
Geoffrey Allen of Lyndeborough, NH
Eli Robles of San Antonio, TX
Ralph Keuhel of Manchester, MISSOURI
Al Long of Centennial, Colorado
John Schroeder of DePere, Wisconson


John Bayliss of Hurricane, WV
Bob Diller of Valparaiso, IN
John Foster of El Paso, TX
Yannick Lamontagne of Gatineau QUEBEC
Paul Berwaldt of Baltimore, MD
George Emanuel of Lyndell, PA
Join the Free Email Club!
If you appreciate this free information make sure to join the thousands of law abiding bikers that have already joined the free Email Club! You will be notified of new useful motorcycle content and techniques as we put them out. Join the Community now!