Podcast: Play in new window | Download | Embed
Subscribe: Apple Podcasts | RSS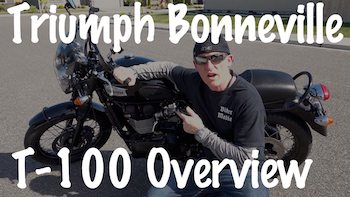 Podcast-In this episode we talk about the 2015 Triumph Bonneville T100 motorcycle. Rick "Big Daddy" Kane bought this bike as a secondary bike and shares his experience. He made some modifications to it and we learned much about this bike in the process. I got to test ride this Triumph and I give my overall thoughts and review. We each have different Pros & Cons on this little bike and we share those with you. Overall, I had a blast spending time wrenching on and riding this Bonneville T100. You'll definitely have to listen in to get the whole scoop!
Don't forget to check out our free 2009-2015 Triumph Bonneville, Thruxton, Scrambler, T100, T120 Oil Change, Maintenance-Safety Inspection-DIY Video.
I also did a test ride, walk around, and review video.
New Free Video Release:
New Patrons:
Manuel Salazar of Unknown Location
Robert Pooser
Mike Pitaro of Cortland, NY
Bill Pletcher of Sacramento, CA
Christopher Meunier of Reedsburg, Wisconsin
Anton Grzetic of Delavan, WISCONSIN


Germaine Baur of Houston, TX
Ronald Staples of Mankato, MN
Stuart Bussman of Mesquite, NV
David Duffey of Jackson, TN
Steven Stratton of Stockton, CA
Mark Hill of Columbia Station, OH