Podcast: Play in new window | Download | Embed
Subscribe: Apple Podcasts | RSS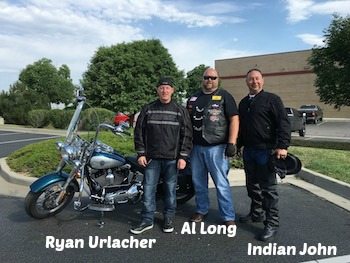 Podcast-We went on a 6-day motorcycle trip to Colorado from Washington State in late June of 2016 for a total of 2700 miles. As usual, we wanted to meet up with any Patrons members in Colorado while we were there and we put out the info ahead of time. Patron Al Long got involved right away. He even took a day off work to meet and ride with us. He was our official guide.
We met up with Al and he gave us a grand tour around the Denver, Colorado area. He took us on some nice twisty roads and through some beautiful areas. We even visited the grave of Buffalo Bill at 987 Lookout Mountain Rd, Golden, CO.
Anyways, we stopped in Idaho Springs, CO and had a nice lunch & cold beer at Tommyknocker Brewery. This is a definite place to visit if you're ever in the area.
Al, Indian John, and I had a nice conversation over beer and food, biker to biker. That is exactly what this podcast episode is all about. We pretty much talked about everything and you get to listen in. It is very raw and authentic episode, as you'll hear dishes and other customers in the restaurant.
Colorado Motorcycle Trip Documentary Video Release (2 part series)
New Free DIY Video Release!
New Patrons:
David Cooper of Schaumburg, Illinois
JT Tomkins
Joe Shinn of Plant City, Florida
Jason Kizzire of Stuttgart, ARKANSAS
Tom Moore of Jackson, TENNESSEE
Clifton Wilder of Belmont, CA


Michael McVicker of Toledo, Oh
Timothy Morris of Halsham, East Sussex (United Kingdom)
James Russell of Charlotte, NC
John Lembke of Los Angeles, CA
Stuart Bussman of Mesquite, NV
Michael Ferrari of Citrus Heights, CA
Join the Free Email Club!
If you appreciate this free information make sure to join the thousands of law abiding bikers that have already joined the free Email Club! You will be notified of new useful motorcycle content and techniques as we put them out. Join the Community now!