By Bikers for Bikers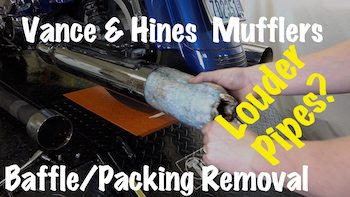 Video-Do you have Vance & Hines pipes and/or slip-on mufflers on your Harley Davidson motorcycle? Are you looking for a little more sound out of them? In this video, we show you how to remove the baffles, remove the fiberglass packing from around the baffles, & put the steel baffles back in.
Note: We cannot know the laws for every State and locality & they are ever changing. You are solely responsible for any exhaust changes or modifications. You are responsible for being in compliance with the laws in your area.
This will definitely increase the sound coming out of your Vance & Hines mufflers. We did this project specifically on Lurch's Vance & Hines Titan 450 Oversized Slip-On Mufflers that we installed on his 2015 Harley-Davidson Road Glide Special some time ago. They sounded great, but he wanted a bit more sound and we got it!
At the end of this video we do a full comparison and how the pipes sounded with the fiberglass packing in and with it removed!
Videos of Interest:
Join the Free Email Club!
If you appreciate this free information make sure to join the thousands of law abiding bikers that have already joined the free Email Club! You will be notified of new useful motorcycle content and techniques as we put them out. Join the Community now!