Podcast: Play in new window | Download | Embed
Subscribe: Apple Podcasts | RSS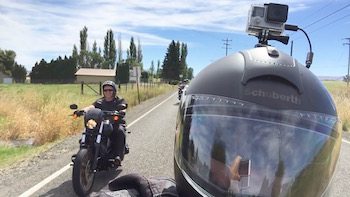 Podcast-In this episode I was fortunate to have Law Abiding Biker Patron Member Russell Roberts in the studio. He is an awesome photographer and does video too. He has much experience with using and mounting GoPro action cameras to motorcycles. LawDog was also on a mic and as a beginner had a ton of great questions to ask Russell and I. I think he asked questions many of you out there want to know and how to get started from the ground up. We reveal how you Bikaholics can get started with action cameras when out riding your motorcycle.
Of course, we use high-end camera, audio gear and lighting here at Law Abiding Biker Media for many projects. But, we also utilize GoPro cameras to capture footage depending on the particular project. I do all my moto biker vlogs with GoPros and iPhones. You can see our free videos on our YouTube Channel. Of course, we also have our very popular for purchase videos.
Video & Article of Interest:
We have tested many different GoPro mounts and motorcycle mounting positions over time and we reveal it all to you! If you are thinking of getting started with action cameras on your motorcycle then you'll definitely need to take a listen.
Russell Roberts can tell you, and I agree, that the Biker Gripper GoPro Motorcycle Mounts are the best in the world. That is our #1 go to GoPro motorcycle mount. Good luck using the cheap plastic GoPro "bar mount" to attach your camera to your motorcycle. They break after several uses and you'll get unwanted vibrations in your footage. We talk about these mounts and more.
We also talk about mounting your GoPro to your motorcycle helmet, which I often do during moto biker vlogs. It can give a great rider perspective. There are mics and
attachments you'll need to talk into your GoPro while riding down the road. I talk about the equipment I use and list affiliate links to the exact items I use below.
Many times I'm asked what GoPro settings I use to record video. Of course, that depends on the exact look I want, but I can say a good starting point for most bikers would be to record at 1080p and 60fps (frames per second). I am not a fan of recording at 4K right now, due to the massive file sizes and management of those files. And the fact that most viewers will never see it in 4k anyways.
I am also asked what software I currently use to edit my videos. I use Final Cut Pro X on my Mac for most of my video editing with many purchased add-ons. Rusell and I also use Adobe Premiere, which can be used on MAC or PC. If you are not doing advanced things then for most iMovie, which comes free on Mac's, works just fine. GoPro also has free desktop editing software. There are also free programs for PC too, but I don't use PC's so you'll have to see what's available.
Last, we compare other action cameras on the market for you. We compare GoPro to those cams and give you our opinions on the many choices out there.
Article of interest:
Exact equipment I use for my moto biker Vlogs:
*If you appreciate the content we put out, click through any of the affiliate links (pictures) below. No additional cost to you, but we get a small kickback if you click through and make a purchase. It helps support us.
You'll also need a good quality quiet helmet if you want to moto vlog. I use a Schuberth C3 Pro helmet to cut down on any wind noise. Adding a wind-screen of sorts to the mic can also cut down on wind noise. I'm also behind a fairing most the time on my Harley Street Glide and that helps a ton. These are all things you'll need to consider and testing will be key to see what works best for your needs.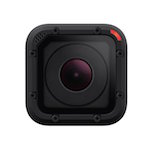 I don't currently use any GoPro session models, but Russell Roberts does. He gives his insight and the pros and cons of the session vs. the full-size GoPro cams in this episode.
Patron Member BBQ Sauce Mention:
Thanks to Patron Member Perry Churchill who sent me some biker BBQ sauce and oh man is it good! Check out Kickstart BBQ Sauce and support our military at the same time. Perry gives 5% of all profits to help military organizations!
New Patrons:
Kevin Miner of Anderson, INDIANA

Ronald Fish of Brick, New Jersey


Paul Wear of Freemont, CA
Scott Lang of Buffalo Grove, Illinois
Wayne Kraan of Delta, British Columbia, Canada
Join the Free Email Club!
If you appreciate this free information make sure to join the thousands of law abiding bikers that have already joined the free Email Club! You will be notified of new useful motorcycle content and techniques as we put them out. Join the Community now!