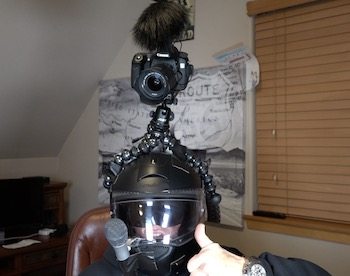 Video-I get asked all the time about what equipment I use and what my exact setup is in my YouTube videos when I motovlog. There are many poor motovlogging setup and gear videos out there on YouTube and I wanted to do it right.
In this completely free and comprehensive video, I show you everything you need to know to get started motovlogging. A motovlog is a type of video log recorded by a person while riding a motorcycle. The motorcyclist uses a camera on his/her helmet with an attachable microphone. I'm a biker and actually pefer to call it bikervlogging. I have many years of experience motovlogging and have tested a ton of equipment. I supply you with all the knowledge I've learned during those years.
Note: The exact equipment I talk about in this video is listed below this article and video.
Podcast & Article of Interest: Episode #123
I get very detailed in this video and break it down for you. I show you exactly what action cameras to use, what settings, what cases, what microphones, what helmets to use and everyth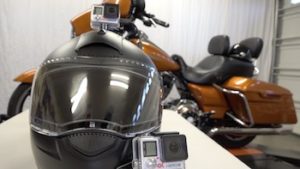 ing in between. There are many things that need to be considered on your setup and placement is key. This video is a great place to start, so you get it right the first time.
You'll have to decide what your purpose for motovlogging is. If you're thinking you'll simply motovlog, post it to YouTube, and then have a ton of views and subscribers……..well then you might not be thinking clearly. It takes a ton of knowledge, experience, dedication, creativity, blood, sweat, & tears to have a successful YouTube channel. You might want to just start out motovlogging for your own purposes or to share with your friends and family. Test the waters so to speak and see where it goes from there.
I show you many different motovlogging camera angles and shots you may consider. I also give you audio examples when using the different microphones discussed in the video.
Editing Your Videos: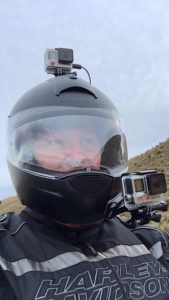 If your getting started and for many of you, the free GoPro Studio editing software will work just fine. If you're on a Mac then the free built in iMovie software will likely suffice. You can use an equivalent free PC editing software of your choice (I'm not a PC guy). I do rather advanced video editing and use Final Cut Pro X (FCPX) on my Mac. I also use Adobe Premiere at times. Both FCPX and Premiere are advanced and very powerful, but they both have a steep learning curve to be good with them. I've been using them for years and learn new things frequently.
Please use the below affiliate links if you appreciate this free video and guide. No additional cost to you, but we get a small commission if you click through and make any purchases.
My Motovlog Equipment List:
Schuberth C3 Pro Modular Helmet
GoPro Action Camera
GoPro 3.5mm Mic Adapter for HERO3 / HERO3+ / HERO4
GoPro The Frame for HERO3 / HERO3+ / HERO4
GoPro Skeleton Housing for HERO3 / HERO3+ / HERO4
SanDisk 64GB Extreme PLUS UHS-I microSDXC Memory Card
GoPro Accessory Pack
GoPro Side Mount
Sony ECMCS3 Clip style Omnidirectional Stereo Microphone (Lavalier mic)
Insten VOIP / SKYPE Mini Flexible Microphone – Black (Stick mic)
Mini-size Foam Lapel Microphone Windscreen (Pack)
Universal Furry Outdoor Microphone Windscreen Muff for Lavalier Microphones
Gaffers Tape