Podcast: Play in new window | Download | Embed
Subscribe: Apple Podcasts | RSS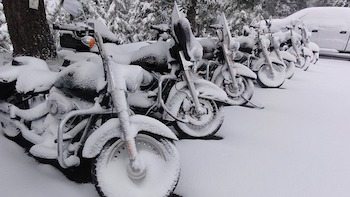 Podcast-In this episode we break down the old myth that you should go out during the winter every so often to start your motorcycle and let it idle for a bit to warm it up. Many think this will keep things lubricated and that it is good for the motor to do this. Heck, I used to do it because that's what my father always did with sitting cars.
This particular subject matter came up in the Patron Only Private Facebook Group. If your not in this group you should consider it, because a ton of reliable information and discussions are in there.
Many bikers can't ride during certain snow months and head out to the old garage, fire up their motorcycle, drink a beer, maybe have a cigar, and let their bike run for 15-20 minutes. They shut her down and head back into the house.  Is this a good practice?
Now that I am more educated, I realize this is actually a bad thing to do to your motorcycle's engine or any engine for that matter. You're better off just letting your motorcycle sit unless you are actually going to ride it for a fair distance.
You see, idling your motorcycle in the cold not only wastes fuel, but it's also stripping oil from critical components that help your engine run, namely the cylinders and pistons.
Normally, your motorcycle engine runs on a mixture of air and vaporized fuel. When that mixture enters a cylinder, a piston compresses it, which generates a combustion event, powering the engine.
New Patrons:
Tony Falvo of Coatesville, Pennsylvania
Roy Skaggs
David Duffey of Jackson, Tennessee


When it's cold outside the gasoline is less likely to evaporate. Your motorcycle purposely runs "rich" and compensates for this initially by adding more gasoline to the air-vapor mixture. That's the problem,  you're actually putting extra fuel into the combustion chamber to make it burn and some of it can get onto the cylinder walls.
Gasoline is a great solvent and it can actually wash oil off the walls if you run your motor in those cold idle conditions for an extended period of time. Over time, that can have a detrimental effect on the lubrication and life of things like piston rings and cylinder liners.  This can have a serious effect on the overall operating life of your engine.
Myth busted; idling your motorcycle does not prolong the life of your engine; rather it shortens it.
Your motorcycle doesn't run rich the entire winter. It only happens when the gasoline is cold. Once your engine warms up to about 40 degrees Fahrenheit, the car transfers to normal fuel-consumption rates.

You might think by idling your motorcycle, you're warming it up, which will prevent this problem. Idling doesn't really get the engine up to temperature, and until that happens the engine control module (ECM) on the engine is going to keep sending a rich-fuel mixture to the cylinders so that it can ensure that enough is evaporated for a consistent combustion event.
The best and only real way to get your motorcycle engine's temperature up is to actually go out and ride! If you can't ride because of ice and snow, then just don't start your bike at at all.
When you ride in those colder temperatures, letting your motor run for about thirty second to a minute is a good standard before you take off.  Once you take off, don't just immediately open up the throttle and rip on it. Ride gently for a bit to give it time to warm up or you'll put unnecessary stress on your engine.  It can take 5-15 minutes for your engine to warm up depending on the driving conditions.
Also, because your motorcycle is going to run a bit rich before the engine reaches 40 degrees Fahrenheit, you're going to get lower gas mileage than usual.
Definitely keep your motorcycle battery on a tender or it'll go bad! This is a great one! Click on the picture to check it out. (affiliate link/support us)
Why the Myth?
The myth started in an age when all motorcycle engines relied on carburetors. Then came the standard application of fuel injection.
The main difference is that electronic fuel injection comes with a sensor that feeds the cylinders the right air-fuel mixture to generate a combustion event. Carburetor-run motorcycles lacked this important sensor. If your gasoline was too cold, your car wouldn't run rich, it would simply stall out. In those days, it was important to get the carburetor warm before driving.
Those days are gone……..
New Free Video:
Oscar writes:
Wanted to let you all know about my K&N filter problem so you can check yours out before the big Sturgis trips. Recently I found that my stage 1 K&N filter (aftermarket stage 1 kit 2013 Limited) looked like it had deformed. I reached my finger to the point where the intake met the filter and found an open air gap large enough to get my pinky into the intake chamber. 

I checked with our local service manager and one of our dealership mechanics and found it happens but is very uncommon. I checked the KN and went with the Harley filter for now because no one had a replacement.

Check your filters, they should be tight against the intake shoulder. With mine I could literally pry it up off the intake without much force. We don't want to be riding through any large storms with a faulty filter.
Join the Free Email Club!
If you appreciate this free information make sure to join the thousands of law abiding bikers that have already joined the free Email Club! You will be notified of new useful motorcycle content and techniques as we put them out. Join the Community now!