Podcast: Play in new window | Download | Embed
Subscribe: Apple Podcasts | RSS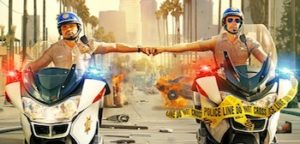 Podcast-In this episode Chewy, Lurch, and I discuss the new CHIP's movie scheduled to release in theaters March of 2017.  We break it down on what we've learned and give you some insight into whether you should go watch it. CHIP's was a classic TV show and I loved watching it as a young boy.  The show ran 6 seasons, from 1977-1983.
The movie stars Dax Shepard, who will be playing Officer Jon Baker and Michael Pena who will fill the role of  Officer Frank "Ponch" Poncherello.  Shepard also wrote and directed the new movie.
Other cast includes Vincent D'Onofrio, Adam Brody, Rosa Salazar, Vida Guerra, and Kristen Bell. Principal photography began on October 21, 2015 in Los Angeles. The film is scheduled to be released on March 24, 2017 by Warner Bros. Pictures.
This movie is really not a replication of the original CHIP's TV series. Instead, it is an action comedy and Hollywood put their flare on it for sure. There are high-speed chases, motorcycles, and explosions. There looks to be much comedy between Pena and Shepard in the trailer.  Many relate the comedy between Shepard and Pena as that of a Lethal Weapon movie.
So, just go into this new movie with the mindset that it will be nothing like the original TV show and instead, a completely different experience. The story line is that there are corrupt officers in the California Highway Patrol (CHP) and Pena is sent in by the FBI to infiltrate. Shepard's real-life wife, actor Kristen Bell, is also in the movie. She stars as Shepards "Trashy, Estranged Wife"
Shepard is fairly skilled on a motorcycle and did his own stunts, while Pena looks to not be such a good rider and a dolly is seen balancing his motorcycle in many behind the scene photos.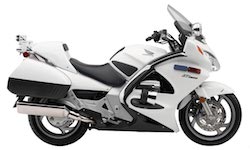 Interestingly, they chose to ride Honda ST 1300's for the movie. It is our understanding that the real California Highway Patrol Motors Officers currently ride Harley-Davidson motorcycles with some left over BMW's they are phasing out. So, we're not sure why they chose Honda's, but hey it's Hollywood. They rarely get anything accurate.
Our opinion is that it will be worth seeing this new CHIP's movie.  It's got motorcycles, action, explosions, and some great humor from what we can see from the trailer.
New Patrons:
Ron Bieler
Richard Richardson of Cape Coral, Florida
James Carnahan of Singapore


Alex Guevara of HIALEAH, FL
James Baum of Hayward, CA
Ronald Garney of Bremond, Texas
New Free Video:
Join the Free Email Club!
If you appreciate this free information make sure to join the thousands of law abiding bikers that have already joined the free Email Club! You will be notified of new useful motorcycle content and techniques as we put them out. Join the Community now!