Podcast: Play in new window | Download | Embed
Subscribe: Apple Podcasts | RSS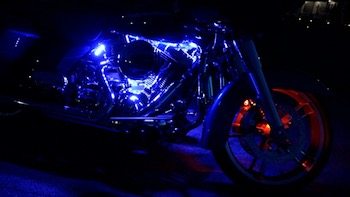 Podcast-Lurch and I spent all day filming and installing Ciro 3D Shock & Awe LED Lighting and Fork Mounted Illuminators on a 2015 Harley-Davidson Road Glide Special. We talk about every detail of the install and if these LED lights are right for your motorcycle. The Shock & Awe LED lighting kit can be used on any motorcycle with a 12-volt system. It doesn't matter the make or year of the motorcycle as the kit is very universal.
We also discuss laws regarding the use of LED lighting while riding your motorcycle on a public highway, which varies greatly from state to state. Always check your state and local laws.
The Ciro 3D LED lighting kits come with everything you need for the install. There are the LED light strips, wire extensions, splitters, control/power/Bluetooth box, control knob, 3M double sided sticky tape, and dialectic grease. Ther are additional bolts, washers, and nuts for the Fork Mounted Illuminators.
There is a very intuitive app for smartphones that allow you to customize the color and pattern of your Ciro 3D LED lights!
Event Announced: 
Sponsor-Patch Addict
Use Coupon Code:

LAB15

Get

15% Off

Free Shipping on orders over $25
Sponsor-Ciro 3D
Innovative products for Harley-Davidson
Affordable chrome, lighting, and comfort products
Ciro 3D has a passion for design and innovation
New Patrons:
Tim Brown of Bullsbrook, WA, Australia
Greg Doncaster of Glenmore Park, N.S.W., Australia
T.J. Wilson of Lebanon, MISSOURI
Paul Green of Demotte, INDIANA
Jonathan Holen of Kennewick, WA
Klaus Dieter of Chiang Mai, Thailand


Neville McKay of Auckland, New Zealand
Vincent Boyce of Clermont, FL
Ronald Sheely
Ed Stapf of Milford, NH
Michael Johnson of Chillicothe, OH
Paul Giunta