Podcast: Play in new window | Download | Embed
Subscribe: Apple Podcasts | RSS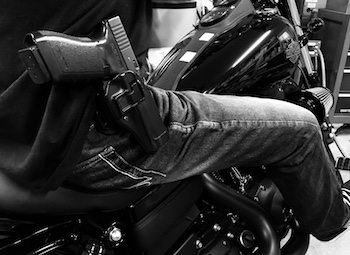 Podcast-This episode was a direct result of Patreon Member Russell Roberts. He gave me the topic idea some time ago and he happened to be in town, so we grabbed the mics and spit this episode for you. Lurch was also in the studio and weighed in. Russell Roberts is like many law abiding bikers out there and exercises his 2nd Amendment Rights to carry a firearm while riding his motorcycle when he legally can. He wants to follow the rules, but that can be confusing, especially when traveling across State lines. Different States have different rules. Some States have reciprocity agreements and may recognize another State's concealed carry permit. Other States don't recognize any permit except their own. In some States, you can open carry and in others, you can't. It gets just plain confusing for most. Lurch and I are full-time Law Enforcement Officers and can carry across all State lines and in places others can't. We forget all the rules regular citizens have to try and navigate.
This is why it was great to have Russell in the studio to give the perspective of a regular citizen and what he's learned. He gives some great advice and some great resources for bikers who want to carry a concealed weapon (see below resources).  You really must listen to this entire episode if you are a motorcycle enthusiast and also exercise your right to carry a concealed firearm.

Book Mentioned:
Smartphone App Mentioned:
This application is about empowering the CCW (concealed or open carry permit) holder (or anyone who wishes to lawfully transport a firearm in any state.) It gives you the direct information that you need to follow the maze of arcane, complicated, and dissimilar gun laws in each state and in each situation. It provides all this information with an easy-to-use User Interface. Laws updated monthly or more frequently! (We are not affiliated with this app or company)
IOS/Apple
Android/Google Play

Insurance Mentioned:
USCCA membership arms you with the education, training, and self-defense insurance you need to protect your family with confidence. (We are not affiliated with USCAA)
NEW FREE VIDEO:
Sponsor-Ciro 3D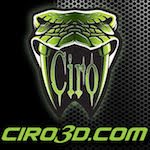 Innovative products for Harley-Davidson
Affordable chrome, lighting, and comfort products
Ciro 3D has a passion for design and innovation
New Patrons:
John Fischer of Halthorpe, MD
Guy Gorney of Manhattan, IL
James Rajacich of Apple Valley, CA
James McKinley of BANNING, CA
ROBERT BORNHEIMER
Cecil Hoskinson of Muskogee, OK


Randy Gerdon of Santa Clara, CA
Steven Stratton
James Spruance
Jim Dimitrious of Cadiz, KY
I.M.E. STITCHING of Farmington Hills, MI
Barry Darnell of Morgantown, WV
Join the Free Email Club!
If you appreciate this free information make sure to join the thousands of law abiding bikers that have already joined the free Email Club! You will be notified of new useful motorcycle content and techniques as we put them out. Join the Community now!