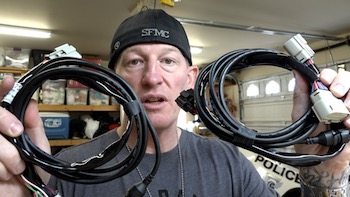 Video-In this video, I tell you everything you need to know about the Harley-Davidson Wireless Headset Interface Module (WHIM) for the Boom Box Infotainment System. Beware and be informed before you consider purchasing the WHIM. You may be throwing your money away.
The WHIM will only work properly with Harley-Davidson branded Wireless Bluetooth Headsets, which are made by Sena. That is the only way you will get wireless Bluetooth stereo sound from your WHIM. If you try to use a regular Sena Bluetooth headset, it will pair depending on the model, but you'll only get mono sound. You'll get the same issue if you try to pair other motorcycle Bluetooth headsets, such as Cardo Systems.
And this is what I call the "Harley Tax". This is just one instance of Harley sticking it to their customers. The Boom Box should have originally come with Bluetooth headset connectivity and that was a big screw up by Harley-Davidson, who refuses to publicly admit it. Now, the company wants their brand loyal customers to spend upwards of $1000 to fix their mistake with the WHIM. If the continuing Boom Box operating issues have not already left a sour taste in many Harley owner's mouths, then this debacle certainly will.
After the WHIM is installed, you'll need to have your Boom Box system flashed at a Harley Dealership so it will work properly. Many dealerships charge anywhere from $50 to $100. No, you cannot flash your Boom Box yourself, as only dealerships have the proprietary software.
With the WHIM, you will get full wireless headset Boom Box Infotainment System integration such as voice commands, turn-by-turn navigation, and rider/passenger communications, but it's not the only device that can accomplish this.
Note: Owners of 2014 & newer Harley models with the Boom Box must purchase the WHIM on their own and install it as an "add-on". 2018 & newer Harley CVO models with the Boom Box are coming already equipped with the WHIM out of the factory.
We here at Law Abiding Biker Media still believe the Sena Freewire ($250) is a much better option, as it is cheaper and you'll get stereo sound even with regular Sena headsets you may already own. And you'll get stereo sound with other brand wireless helmet headsets. With the Sena Freewire, you also get full Boom Box integration and rider/passenger communications just like the WHIM.
Note: With the single WHIM, you can run two Harley branded wireless Bluetooth headsets. With the Sena Freewire, you'll need one module for the rider and one for the passenger. You'll need to install a 7-pin DIN coms port for the Freewire and we have a free video on just how to easily do that.
What are we going to do? FREEWIRE OR WHIM?
We here at Law Abiding Biker Media will stick with the Sena Freewire. It gives all the functionality of the WHIM at a fraction of the cost. And best of all, it works in stereo with all the Sena brand headsets we already own!

Sena Freewire Videos of Interest:
If you choose to go with the WHIM, then this is what you'll need and what you'll have to pay: (part numbers and links)
Wireless Headset Interface Module ($299)

(Part Number 76000768)

Wireless Headset Interface Module Harness ($49)

Part Number 69201726

Boom! Audio 20S Bluetooth Helmet Single Headset ($299)

Part Number 76000736A

Boom Box Dealership Flash ($50-$100)
Dealership Install of WHIM ($200?)

We will be releasing a free WHIM install video on our YouTube Channel
Join the Free Email Club!
If you appreciate this free information make sure to join the thousands of law abiding bikers that have already joined the free Email Club! You will be notified of new useful motorcycle content and techniques as we put them out. Join the Community now!
OVERALL
Harley Wireless Headset Interface Module-WHIM
Summary
We think the WHIM is way overpriced to fix a Boom Box issue Harley should have fixed for free for their customers. Further, Harley is going to make customers purchase their version of the Sena 20S headset stamped with their logo to actually get "stereo" sound. That's the "Harley Tax". Those tons of riders out there with regular non-Harley stamped Sena headsets will only get "mono" sound and that's a deal breaker. Other brand headsets, such as Cardo Systems, will also only get "mono" sound with the WHIM. And after installing the WHIM, you'll need to have your Boom Box flashed at a dealership for it to work.
The solution is simple. Get the Sena Freewire, which will work with regular Sena headsets and you'll get "stereo" sound. The Freewire is a fraction of the cost of the WHIM. The Sena works out of the box and requires no "flash" by a dealership after install.