Podcast: Play in new window | Download | Embed
Subscribe: Apple Podcasts | RSS
Podcast-In this episode, Lurch and I are on the mics. You likely heard that here at Law Abiding Biker™ Media, Inc. we lost all of our online motorcycle store inventory in a large fire. Our storage facility burned to the ground on December 18, 2017.  That storage facility was attached to Big Daddy's, who runs the store, house and it too was heavily damaged and he'll have to rebuild. We give you a behind the scenes look at what's going on and all the details in this episode. Our Official Store is Back online, but it will take time to completely re-stock it. You can see my store fire video here.
Check our new limited time Biker Revolution T-shirts and help us rebuild!
We also announce that one of our larger Law Abiding Biker™ group motorcycle cross-country trips will be to Utah this year and we hope to meet up with Patron members. To get all the information, you'll have to be in our Private Patron Member Only Facebook Group.

We received a ton of support from the community in our time of need and we are so appreciative. We wanted to thank many persons in this episode. There are many ways to continue to support us into the future, so we can continue the Biker Revolution! (see below for more details)
Our goals for 2018 are to re-build the online store even bigger and better. Our YouTube channel is exploding and turning into an awesome respecful biker community. We've got some awesome video releases for you, so get subscribed now. If you haven't checked out our recent Canada Motorcycle Trip Documentary Film or our Reno, Nevada Motorcycle Trip Documentary Film make sure to do so. We are going to sell some of our documentary films up front for a while as we move forward. Much work goes into those films. At some point, we'll release them for free on the YouTube channel. If you want these films early and want to support our efforts, please purchase them. Don't forget that top tier Patron Members get full access to our premium videos, such as the documentary films and tutorials.

Another goal is to continue forward with construction on the new Law Abiding Biker Media media studio and shop where we will create even better content. We appreciate all the support everyone has shown us via our studio/shop fundraiser for that project. The store fire set us back on the shop and studio, but we are determined to find a way to get it built sooner than later.
We are so thankful that our Patreon memberships are growing and we have plans to continue more exclusive benefits for our members such as exclusive access to live video broadcasts with chat. Our private Patron Member only Facebook Group has become an awesome place for bikers to learn from each other and meet. There is a ton of motorcycle experience in that private group and it's the best forum online. There's no better time to become a Patron member.
Of course, our foundation and how we started is our weekly Podcast, and we're certainly continuing with that.
Here are the ways that you can get involved, take action, and help us move Law Abiding Biker™ Media into the future!
NEW FREE VIDEO RELEASE:
Sponsor-Ciro 3D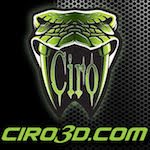 Innovative products for Harley-Davidson
Affordable chrome, lighting, and comfort products
Ciro 3D has a passion for design and innovation
Sponsor-RickRak

The Ultimate Motorcycle Luggage Rack Solution
Forget those messy straps and bungee cords
Go strapless with a RickRak quick attach luggage system & quality bag
New Patrons:
Larry Barnwell of Hendersonville , NC

Leonard Keesler of Lake Peekskill , NY

Richard Gramza of Wichita, KA

Rob Roberts of Narre Warren South, Australia

Jeffrey Zoellick of Cotopaxi, CO

Sherman Swain of Pell city , AL

Craig Bolles of Sioux City, IA

Matt Barber of Springboro , OH

Jacques Livaudais of Round Rock , TX


Rick Kemner of Troy, New York

Christine Anderson

Mike Matuszek

Michael McGinniss of Huntington, New York

Chris Beck of Hayden Lake, Idaho

Matthew Ledford of Barnesville, Georgia

William "Doc" Jones

Donald Shepard

Jeroen Jansen

John Daniel

Stephen Baber

Aaron Christopherson of Molalla, Oregon

Brad Harris of Yakima, WA

Chris Hannah

Stephen Martin of the United Kingdom

Martin Halm of Germany

Ron Sumners of Indialantic, Florida

Victor Stango of Chestertown, MD

Andrew Best Dover, Delaware

Ronald Zakarzewski of Moneta VA

Stuart Bussman of Mesquite, NV

Barry Sobel Detroit, Michigan

Emmett Helm (PENDING ADDRESS)

Jeffrey Mars Amesbury, Massachusetts

Sugar Shack LLC of Middletown, NY

Dale Whiteside of Canada

Danny Lazenby of Memphis, TN

David McPherson  of Pottsville, Pennsylania

Kristofer Lizak of Ashland Wisconsin

Oscar Hills of Guilford, CT

Steven Stratton of Stockton, CA

Al Long of Centennial, Colorado

Charles Stoddard of Yankton, South Dakota

John Rolfe of Chandler, AZ

David Weber of (ADDRESS PENDING)

William Bray of Skipperville, AL

Randall Shearer of Ontario, Canada
Join the Free Email Club!
If you appreciate this free information make sure to join the thousands of law abiding bikers that have already joined the free Email Club! You will be notified of new useful motorcycle content and techniques as we put them out. Join the Community now!