Podcast: Play in new window | Download | Embed
Subscribe: Apple Podcasts | RSS
We are happy to announce that we brought some awesome Rickrak products to the Law Abiding Biker Store for all you Bikaholics. Yup, products by Rickrak get our full stamp of approval and we've tried, tested, and use these products. We talk about many of the Rickrak products in this episode and what we learned about them. We'll definitely give you some things to think about.

Shane and his dad Rick Riffel, a father-son team out of Huntersville, NC, have developed a unique quick detach luggage system for Harley-Davidson and Indian motorcycles. And it's the best in our opinion!  In less than 10 seconds you can have your luggage off and on your Harley or Indian! And no more luggage straps slapping your paint. Those days are gone for good. The Rickrak is sturdy, yet light.
Videos:
Check out our YouTube Channel or this website and use the search bars to search for "Rickrak". We've done a multitude of free video reviews and installs of Rickrak products.

You also gotta check out Rickrak's high-quality Harley Saddlebag Safety Bolts. We've tested many similar products and we believe Rickrak's are the best out there by far. They are super high quality and used by the crew here. Beware of the cheap stock pins that hold your Harley bags on. There have been recalls and lawsuits over bags falling off over the years.
And, never lose or leave your motorcycle gas cap again. If you're like me, I take it off and put it on top of the dirty pump. Yup, I've seen many biker friends leave the cap behind and they are not cheap at all to replace. Plus, you're picking up grime that can then be introduced to your fuel system.  With the simple Gas Kap Keeper Magnet by Rickrak, you won't leave it behind anymore. It installs in seconds and you can then stick your gas cap to your tank, ignition, or anywhere else metal. And, it has a super awesome protective coat, so it won't scratch your paint.
Listen in to this episode to get all these details and much more. Like I say, "Once you've had Rickrak, you'll never go back."
New Free Video:
Sponsor-Ciro 3D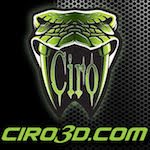 Innovative products for Harley-Davidson
Affordable chrome, lighting, and comfort products
Ciro 3D has a passion for design and innovation
Sponsor-RickRak

The Ultimate Motorcycle Luggage Rack Solution
Forget those messy straps and bungee cords
Go strapless with a RickRak quick attach luggage system & quality bag
New Patrons:
William Bray of Skipperville, Alabama

Charles Martin of Cottage Grove, Oregon

Barry DeVliegher of Newburgh, New York

Thomas Fowler of Columbia, South Carolina

James Laing of North Olmsted, Ohio

Mark Nicholls of Brownsburg, Indiana

Juan Salas of Lewisville, TX

CJ Owens of Aldie, Virginia

John Connors of Watervliet, New York


Karl Brennan
Jose Couto of Kent, WA
Paul Rarey

Steve Kokinos of Beverly Hills, Florida

Tim Jones 

Jack Stroud of Clarkston, WA