Podcast: Play in new window | Download | Embed
Subscribe: Apple Podcasts | RSS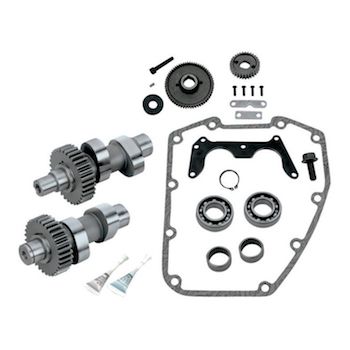 A Harley-Davidson cam upgrade on your engine can provide more power for certain RPM ranges, which is completely dependent on what style aftermarket cam you purchase. A more extreme cam can also make your bike run in a way that's not optimal for your type of riding. A cam upgrade after the original purchase of your Harley from a dealership will also likely void your factory and/or extended engine warranty.  Additionally, cams and installs can get rather costly. So, many considerations need to be made before you make a decision to upgrade your Harley cam.
Note: We are not experts on Harley cam upgrades, but we are simply trying to relate general and basic knowledge to help the average everyday biker out there. 

With so many aftermarket Harley cams available and so much improper information in the spam filled online Harley forums, we wanted to record this podcast episode to help the average everyday biker out there decide and navigate through the smoke and mirrors, as to help all make an educated decision on whether or not to upgrade the cam on a Harley. We break it down Law Abiding Biker style!
I had Oscar & Big Daddy on the mics with me and they are both well versed in Harley cam upgrades.  Don't worry, listen in and you'll see we break it down and don't get overly technical on this subject-just what you need to know.
By installing a cam upgrade on your Harley,  you can increase horsepower or torque by essentially changing your valve timing. You'll be letting the exhaust out and fuel/air in at very specific times. By changing this timing, you can increase maximum torque in different ranges, such as low or high. It's all about the "grind" of your cam and that can get really technical.

Why doesn't Harley use better stock cams?
A stock cam in your Harley provides a safe range and tries to do everything "okay" through all the ranges and it's EPA compliant. You'll see nothing great at the low or high end, but the bike will start well and run well for the average everyday rider out there.
And, let's not forget that a very large portion of Harley-Davidson's income is from selling performance aftermarket parts and charging high labor rates to install such parts. They'd lose much money if they put a better stock cam in the motor at the factory.
Question to ask yourself:
Before a cam upgrade on your Harley,  you'll want to ask yourself-what model of Harley engine do you have and what kind of riding do you do? Maybe you're riding a bagger with a passenger and you want low-end torque to take off quicker up to a certain RPM? Or, maybe you'll choose more of a horsepower cam and would like horsepower to kick in at a higher mid-range RPM, so when you roll the throttle to pass a car it's there for you?
You'll also want to decide if you want a regular or high lift cam. With a high lift cam, you'll need to have a modified high flow head. You'll have to have polished intake and exhaust ports or even have the ports made bigger (ported). You'll have to replace things like stronger valve springs and larger valves and so on. This can get in depth and expensive quick.
An aftermarket cam for your Harley can push your valves up farther or keep them open longer, creating different levels of torque and/or horsepower. A high lift cam will push the valve deeper into the cylinder and keep it open longer. A high lift cam will likely give your engine that "loping" sound at idle as you often hear in muscle cars.
Basically, a low-end cam is about improving torque, while a high lift cam is about horsepower.
You'll want to decide if you want a chain or gear driven cam. For more information on that subject, you'll want to listen to Podcast Episode #73. Your stock Harley cam is chain driven out of the factory.
Generally speaking, gear driven cams for Harley are a bit more reliable long-term. Gear driven cams do whine a bit over the stock chain driven cams. Gear driven cam kits are a bit more expensive than chain and a little more is involved on the install as you'll have to measure crank run out with a dial gauge and make sure the cam is still true etc.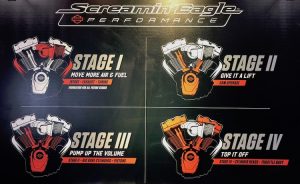 What are the Harley stage kits?
Harley basically has four different stage kits, such as stage one, stage two & so on. Basically, those kits are put together by Harley and the parts included in the kits work well together. By getting a Harley stage kit you don't have to spend a bunch of time researching and piecing things out. As the stage kits get higher in number the more parts and labor are involved. But, higher number stage kits are well beyond just getting a new cam.
A stage one kit is basic air intake and exhaust all the way up to stage 4, which will be a large project such as air intake, exhaust, larger pistons, cam and more. This is a basic explanation and you should reference a Harley dealership or the HD website to get all the specifics for each stage kit.
Other awesome aftermarket comparable stage kit:
You should also consider the Vance & Hines 30+ Horspower Kit, which is an all-inclusive kit. We like this kit so much we brought it right to the Law Abiding Biker Store.
The kit comes with the following items.
– Oversized 450 Slip-ons (chrome or black) with Carbon Fiber End Caps (exclusive to 30+ HP Kit)
– Carbon Fiber VO2 Air Intake Kit
– Fuelpak FP3 with Raceshop Mapping
– Power Dual Head Pipes (chrome or black)
– 575 Camshaft Set
– Adjustable Pushrods
– Vance & Hines Inscribed black Timing Cover
Picking a Cam:
Most reputable Harley cam manufacturers will have all the specifications for a particular grind cam listed on their website. You can look at things such as-what RPM range the cam is for? So, make sure you do a little research to make sure you're getting what you want.
Understand, that with many basic shallow ramp or "mild" cams you can just install the cam and pushrods and be good to go. That is likely as far as an average everyday Harley rider needs to go.
Getting into more aggressive high lift cams will add many additional issues and associated costs and may not be necessary. But, it's your bike, money, and time, so equip your Harley how you choose.
You'll also want to consider a "bolt in" cam for ease of installation. These bolt-in cams fit right in with ease. The cam doesn't actually bolt-in, but that is just a phrase that means no other mods will be needed for fiment.
Note: A cam upgrade for a Harley is the best bang for your buck to improve the performance of your Harley from stock.
Tuning your Electronic Fuel Injection (EFI) after a cam install:
You'll need to re-map your EFI with a good quality aftermarket tuner after a cam install. We recommend the Vance & Hines FuelPak 3, which we use and sell in our store. You can tell V&H techs what cam and kit you installed and they can send a map to your smartphone that you can then upload into the FuelPak 3 and then flash your bike's ECM.
Tip: Before buying an upgraded cam for your Harley, call your EFI tuner manufacturer and make sure they either have or will create a map for you. You may also consult your cam manufacturer and see if they have an EFI map. 
Check out Podcast Episode #34 for a ton of great information on EFI tuners for Harley.
Must Listen in:
This is just some of the information we discuss. You absolutely must listen in on this podcast episode to hear what cams and kits we actually like best!
New Free Video:
Sponsor-Ciro 3D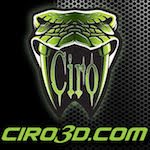 Innovative products for Harley-Davidson
Affordable chrome, lighting, and comfort products
Ciro 3D has a passion for design and innovation
Sponsor-RickRak

The Ultimate Motorcycle Luggage Rack Solution
Forget those messy straps and bungee cords
Go strapless with a RickRak quick attach luggage system & quality bag
New Patrons:
Gus Navarro of Iron Station, North Carolina

James Hess of Palatine , Illinois

Robert Rossi of Warwick, Rhode Island

Wayne Walters of Sailsbury, North Carolina

Peter Webber of Bedford, Novia Scotia, Canada

Robert Ryan of GROVELAND, Florida


Paul Stephens of Marietta, GA

Peter Clark of Henfield, West Sussex

Thomas DeMaio of Savannah, GA 

Michael Hurd of sun city west

Rex Fox

Michael Mattiza of Fort Worth, Texas
Join the Free Email Club!
If you appreciate this free information make sure to join the thousands of law abiding bikers that have already joined the free Email Club! You will be notified of new useful motorcycle content and techniques as we put them out. Join the Community now!