Podcast: Play in new window | Download | Embed
Subscribe: Apple Podcasts | RSS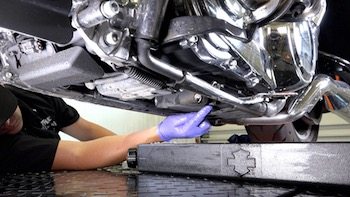 In this episode, we reveal to you exactly what is and is not done during a routine 1K or ongoing 5K oil change/service on your Harley-Davidson motorcycle at a dealership. Many Harley owners out there are misinformed and are led to believe that some 200 "secret" checks are done, but this is not the case and rather ridiculous if you think about it. We encourage you to do your own routine oil changes & services on your Harley in your own shop or garage. It is super easy and in our #1 best selling tutorial videos, we show you everything the dealership does and more for these routine services that they charge upwards of $400 for!
Harley Oil Change/Service Videos Available:
Harley Milwaukee-Eight Routine Oil Change, Service, & Safety Inspection

The price for these high definition tutorial videos is nothing really as they pay for themselves over and over again!
No, changing the oil and servicing your own Harley DOES NOT VOID YOUR WARRANTY and it can't. You are protected by the Federal Magnusson-Moss Warranty Act and your dealership personnel will tell you so. You just need to save your product purchase receipts and sign the back of your owner's manual for the services you do!
We here at Law Abiding Biker Media, Inc. service our Harley's ourselves of course. However, due to contracts and department practices, I am required to have my issued Police Harley-Davidson Electra Glide serviced at a dealership. Because of this, I learn a ton of actual real-world information that I can share with the community here.

Please understand, I have nothing but the utmost respect for certified Harley mechanics and I have several that are friends. I gather real information from them to relate to you. I am in no way talking badly about those Harley mechanics or dealerships. I am just relating the facts so you can be more informed about what actually occurs on one of these routine Harley oil changes/services.
On my most recent oil change/service on my 2018 Police Harley Electra Glide with the Milwaukee-Eight motor, I spent time with mechanics while they serviced my bike. By doing so, I re-confirmed what I had learned years earlier. They do nothing more than what we show you in our Harley oil change/service tutorial videos. And, we actually show you a few additional things in those videos along with many tips and tricks.
You must understand that motorcycle and car dealerships alike have very specific protocols for servicing vehicles. That means if their service book says that a routine Harley oil change and service takes 3.5 hrs (and the book does say this) then that is what you will be billed for regardless if they get it done sooner. This is nothing new, but surprisingly many Harley and car owners alike do not know this.
No, the mechanics don't check every bolt and torque on your Harley as some out there believe. This would be absurd anyway. They may check the front and rear axle bolt torques as an example, but that would be all as they are more critical components. Much of what they check is visual and if there is no problem spotted then nothing is done further and it is checked off the list. An example would be visually checking oil, fuel lines, fluid levels, brake pads, belts, sprockets etc. In addition to visual inspections, much can be checked when the mechanic takes your Harley out for a test ride after the oil change. Lights, throttle, switches, shocks, and clutch are just a few. If the bike is running great an dall feels to work well then nothing further is needed.

I was provided with a .pdf inspection sheet that the mechanic prints out to make sure he/she checks the most important things. It is a list of about 40 things, many being visual inspections. It is nowhere near 200 items. Tire pressure, tread, brake pads, oil change, fluid levels, and filters are common things during a routine service of course. Again, we show you all this in our awesome tutorial videos.
Listen in to learn more as we go through each item that was checked or done at the dealership to my Police Harley when receiving a routine service and oil change. After you listen and view one of our Harley oil change/service videos you'll wonder why you ever paid that much money at a dealership. Plus, there's no better feeling than servicing and taking pride in your Harley.
New Free Video Mentioned:
Sponsor-Ciro 3D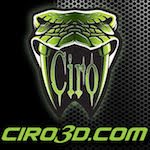 Innovative products for Harley-Davidson
Affordable chrome, lighting, and comfort products
Ciro 3D has a passion for design and innovation
Sponsor-RickRak

The Ultimate Motorcycle Luggage Rack Solution
Forget those messy straps and bungee cords
Go strapless with a RickRak quick attach luggage system & quality bag
New Patrons:
Leonard Long of Indio, CA

Thomas "Taz" Massey of Kennewick, WA

Charles Jackson of Phoenixville, Pennsylvania

Shane Peck of Brandon, Florida

James Payne of Strathkellar, Victoria, Australia

Christopher Keener of Bristow, Virginia

Bruce Marple of Jacksonville, Florida

Kim Smith of Stanton, Kentucky

T. Lee Brown of Mound City, MISSOURI


Howard Fairchild of Medford, New Jersey

Bill Reed of Pittsburgh

Jose Couto

Robert Johnson of Knoxville, Tennessee

Darrence Lovejoy of Charlotte, North Carolina

Thomas Krouse of Orangevale, California
Join the Free Email Club!
If you appreciate this free information make sure to join the thousands of law abiding bikers that have already joined the free Email Club! You will be notified of new useful motorcycle content and techniques as we put them out. Join the Community now!