Podcast: Play in new window | Download | Embed
Subscribe: Apple Podcasts | RSS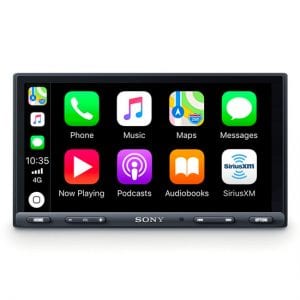 Is the Sony XAV-AX 5000 Harley Boom Box Replacement worth it? This is everything you'll need to know if considering the swap.
Darryl "Squid" Barnes here at Law Abiding Biker Media dug in deep to find out everything you'll want to know if you're considering ditching your Harley Boom Box for the Sony XAV-AX 5000 unit. Listen in to this podcast episode as I ask Darryl all the questions you'll want to know.
There are both pros and cons to this replacement unit from Sony and you must understand that it was never specifically designed to replace the Harley Boom Box, but it does a great job. Some have just found that it will work great if you also buy the proper "plug and play" bundle of items to make it work. There is a company that puts out a for purchase bundle kit for the complete install.
Any rider that has experienced the Harley Boom Box over the years and all of its frustrating shortcomings have likely thought about an alternate option. Harley has not won any customers over with the Boom Box, but instead frustrated many. It lacks in many ways and has constant issues that they haven't been able to fix in years now with many software updates.
Flatten the learning curve and get the most out of your Boom Box Infotainment System!
In 2019 Harley came out with a re-designed Boom Box GTS system that claims to be the next generation. However, it too lacks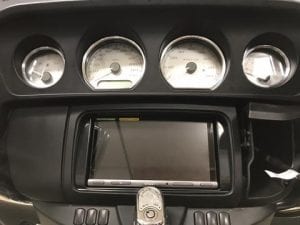 and has frustrated customers with Harley forcing riders to buy only their branded products such as headsets to get full functionality. As a few examples, the new 2019 Boom Box GTS has Apple Car Play, but it won't activate unless you use a Harley branded wireless Bluetooth headset that Sena makes for them or a Harley branded wired headset. And the Boom Box GTS does not have Android Auto.
The new Boom Box GTS introduced in 2019 is better than the older units and has a full touchscreen with no physical buttons. The menu system has also been cleaned up. However, it still has issues.
You'll definitely want to watch my video on the new Boom Box GTS.
The parts you'll need to for the Sony XAV-AX 5000 Harley Boom Box Replacement. If you source the products yourself:
Sony XAV-AX5000 (retail: $429.99)
Metra 95-9700 Installation Dash Kit, including the HD-ASWC-1 handlebar control integration module (retail: $199.99)

Total if sourced yourself: $629.98

And the products don't come pre-soldered and ready to go like other bundled kits
Some places sell a less expensive bundled Kit as they've sourced the products for you. These plug and play bundles include the following (all prewired):
Sony XAV-AX5000
Metra 95-9700 Installation Dash Kit for Double DIN head units
Metra HD-ASWC-1 handlebar control integration module
These kits come pre-wired and ready to go
The pros of the Sony XAV-AX 5000 Harley Boom Box Replacement:
The replacement Sony system has standard am/fm and it has both Apple Car Play and Android Auto baked in and they will function if your smartphone is plugged into one of the USB ports. It has a full 7″ touchscreen and is very sleek. You can buy a XAV-AX 5000 bundle kit that will allow it to install and function when installed on your Harley-Davidson. With Apple Car play and Android Auto, you'll be able to use Apple Maps and Google Maps for navigation. Another nice feature is that with the Sony XAV-AX 5000 you'll maintain your factory handlebar control functions with some limitations.
Note: If you appreciate all the information we provide and to help us continue our mission to help as many bikers as we can worldwide, consider purchasing a Sony XAV-AX 5000 through our affiliate link below. No additional cost to you, but we get a small commission if you click through and make a purchase.
The Sony unit has a Bluetooth "handsfree profile" built in, so you can pair your smartphone directly with it. It also has a bluetooth "headset profile", which means you can pair a wireless bluetooth headset with it for music and phone calls.
Further, the Sony replacement plays FLAC files on USB drives and includes Bluetooth hands-free calling and audio streaming. You can also jam to your favorite playlists on Pandora or Spotify if you use those instead of your pre-loaded Apple or Android music. The unit is also compatible with a SiriusXM satellite radio tuner. AND, it comes with a 1-year warranty.
The Sony unit also has dual rear USB inputs and a rear-view camera input and 5-channel preamp outputs (2-volt front, rear, subwoofer).
The cons of the Sony XAV-AX 5000 Harley Boom Box Replacement:
The Sony XAV-AX 5000 is not marine grade like the Boom Box system is. So, you'd need to be careful if riding in heavy rains and when washing your Harley. You'll lose your intercom functionality and it's not CB radio compatible. Additionally, you won't see your EITMS on/off screen or oil pressure like on the Boom Box.
The XAV-AX 5000 has a microphone included with a wire that you normally route inside a quiet car. This microphone would be less than useful on a motorcycle with the wind and noise for voice commands.
The XAV-AX 5000 only has a handsfree profile "HFP" and not a headset profile "HSP". That means you cannot pair a wireless Bluetooth headset directly with the unit but you can pair your smartphone because of the HFP profile. This is similar to the Boom Box system but you can add the additional wireless headset interface module "WHIM" to get the HSP profile. There is no ad-on for the Sony to get the HSP profile.
So, you'll need to pair your wireless Bluetooth headset directly with your smartphone and then have your smartphone plugged in via the USB port to use Apple Car Play or Android Auto. You can then give commands to your phone which will then bring things up on the Sony unit.
Further, because the unit lacks the HSP profile, you'll lose your Harley intercom functionality and it's not CB radio compatible.
Further, the Sony unit has built-in satellite GPS navigation, but you'll need to pay an additional $260 for a module to get that functionality. With the module, you'll get true offline satellite GPS navigation. TomTom is responsible for the maps on the Sony unit, but the maps have not been updated as of 2017. No one is certain that an update will ever happen.
You'll also likely want to get an amplifier as the Sony XAV-AX 5000 does not put out near the power that the stock Harley Boom Box system does to power the stock or aftermarket speakers.
Conclusion:
Now that you're educated on the Sony XAV-AX 5000 Harley Boom Box replacement, you have a decision to make. Like anything, it's not a perfect solution, but many riders have gone to the Sony unit out of continued frustration with the Harley Boom Box system. We get much feedback here at Law Abiding Biker Media from the biker community and we have not found anyone who has installed the Sony unit to be disappointed with the decision. Many are very happy with the functionality of the Sony unit and cutting ties with the problematic Harley Boom Box is a relief to them.
New Free Video Mentioned: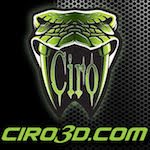 Innovative products for Harley-Davidson
Affordable chrome, lighting, and comfort products
Ciro 3D has a passion for design and innovation
Sponsor-RickRak

The Ultimate Motorcycle Luggage Rack Solution
Forget those messy straps and bungee cords
Go strapless with a RickRak quick attach luggage system & quality bag
New Patrons:
Ryan Scheuerman of Lake Stevens, WA

John Nederoscik of Oxford Massachussets

Allen Goulart of Forest Lake, Minnesota

Todd Funk of Washington, Illinois

Dwayne Boan of MUDGEE, New South Whales Austrailia

Ernie Laney of Brian, Texas


Join the Free Email Club!
If you appreciate this free information make sure to join the thousands of law abiding bikers that have already joined the free Email Club! You will be notified of new useful motorcycle content and techniques as we put them out. Join the Community now!