Podcast: Play in new window | Download | Embed
Subscribe: Apple Podcasts | RSS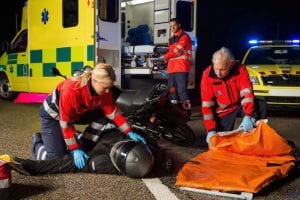 In this podcast episode, I go into great detail of the dangers I see out on the road as a full-time Police Motorcycle Officer and Instructor. I see riders making so many common mistakes that unknowingly put their lives in danger. Unfortunately, I respond to many motorcycle collisions and it's never fun. Many times it's not the rider's fault, but had that rider practiced better defensive riding skills they would have avoided it. And yes, I understand that under some circumstances there is just simply nothing the motorcycle rider could have done to avoid a collision.

In the studio on the mics were Lurch and special guest and Patron Member, Bob Dawson. Bob donated his time to paint the entire inside and outside of the Law Abiding Biker™ Studio and Shop when we were building it! Bob Dawson owns Dawson Custom Painting out of the Yakima, WA area.
Both Lurch and Bob weigh in on their experiences and things they do to stay safe when out riding.  I truly believe that if motorcycle riders would stop making many common mistakes that motorcycle collisions would be greatly reduced. Too many riders become complacent and make dangerous mistakes, don't practice, and are not prepared. Ask yourself, when is the last time you spent just 20 minutes practicing emergency breaking in a parking lot? This could save your life and it's an easy drill to set up.

You need to listen in to this podcast episode, as it's much easier to verbally break down the things I've seen and to give you all the tips and tricks that will help you stay safe when riding your motorcycle. I will try to give a few of the highlights in this article, but again, the details are in the podcast episode.
Some more common dangerous things: 
Following too closely

Back off! Give yourself reaction time and the cars behind you time

Don't ride with your feet on the highway pegs in the city with traffic. They are for the highway.

Greatly reduces your reaction time to get your foot on the brake

Cover your clutch in heavy traffic

Be ready to emergency brake and shift down to brake and escape

Slow at EVERY intersection even if it's a green light

Expect a car to come through every time
Head checks left and right upon approach
Cover clutch and brakes
Don't just ride through at full speed and expect traffic to stop

Don't start on a green light right away. Wait a few seconds to avoid those other cars trying to beat the yellow/red light
Don't ride in a driver's blind spot
Tap your brake lever or pedal to flash your brake lights to get the attention of driver's behind you when slowing or preparing for a stop

Or buy an aftermarket brake strobe modulator
Be slow to stop/Following distance again gives you that ability to not have to stop suddenly

Be cautious of traveling in the left lane in a city when two or more lanes are in the same direction as you are going

Cars ahead in the left lane will stop and have to wait for oncoming cars to make a left turn. Cars will not expect this and everyone will brake quickly. Vehicles turning right from the right lane don't have to wait and just quickly turn off.
Again, the proper following distance will help you stop slowly and give cars behind you more time to see you and also stop

Following distance…..hmmmmmm, this keeps coming up? Do it if you care about your life!

Be extra careful when a line of cars are stopped in the opposite direction as you and they are backed up.

Look for gaps left in the traffic. Drivers will try to come out of parking lots through those gaps to get out and will not see you and have a blocked view from the traffic they are cutting through.
Very dangerous, so slow down and pay very close attention covering your clutch and brakes.

Practice, practice, practice your emergency braking and other riding skills

Take your motorcycle riding safety seriously
Again, these are just a few highlights of what we discussed in this podcast episode. To learn it all, please listen in.
New Free Video Mentioned: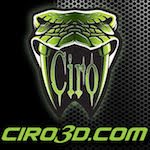 Innovative products for Harley-Davidson
Affordable chrome, lighting, and comfort products
Ciro 3D has a passion for design and innovation
Sponsor-RickRak

The Ultimate Motorcycle Luggage Rack Solution
Forget those messy straps and bungee cords
Go strapless with a RickRak quick attach luggage system & quality bag
New Patrons:
Wesley Tanner of Camden, South Carolina

Ed Fox of Shamong, New Jersey

Stephen Jaynes of Mercersburg, PA


Dan Fahey of Greenwich, Connecticut

Troy Starr of Henderson, Nevada

Robert Siemion of Philadelphia, PA
Join the Free Email Club!
If you appreciate this free information make sure to join the thousands of law abiding bikers that have already joined the free Email Club! You will be notified of new useful motorcycle content and techniques as we put them out. Join the Community now!