BLOG-This hydraulic clutch malfunction happened to my 2014 Harley Davidson Street Glide Special over a month ago and before this recall came out.  The Harley Davidson mechanics at my local dealer and I had no idea it would be a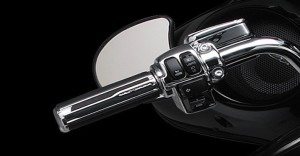 recall issue.  We thought it was just an isolated problem to my motorcycle. This recall came out on October 16, 2013.
I quickly realized that the Law Abiding Biker Motorcycle Podcast and Media should jump on this and get some of the truths out about the 2014 Harley Davidson Hydraulic Clutch Malfunction Safety Recall.  I actually ride a Harley that experienced this problem, so I figured I am more qualified to write about it.

The day I drove my new Harley Street Glide Special home, the hydraulic clutch malfunctioned and would not disengage.  What that means is, when you pull the clutch lever in the Harley keeps moving forward.  So I limped it back several times to the Harley dealer (you can shift w/o a clutch if you know how).  Several times the Harley Davidson mechanics (great guys) bled the hydraulic clutch system, as we believed there may be an air bubble.
Anyways, that did not work, so they robbed a master hydraulic clutch cylinder off another 2014 floor model and put it on my motorcycle.  My motorcycle was so new that they did not have any new parts in stock yet.
My 2014 Harley Street Glide Special's hydraulic clutch system has been working like a dream ever since.  It appears it is just some hydraulic master cylinders that are faulty, as in my case.  I love my 2014 Harley Street Glide Special and if you want to see my full review and video CLICK HERE.  
I stopped by my local Harley Davidson dealer today, where I know everyone, and conversed with them about the recall.  I spoke with their service advisor and the mechanics.  They obviously remembered the problem they initially had with my Street Glide Special.  Of course, they are supposed to advise persons not to ride the bike until this recall is done.  NOT A CHANCE FOR ME-LOL and they know that, but did their required duty.
They know me well and my ridding abilities.  It is not a huge deal if you don't freak out when or if it ever even happens to you.  It could happen on any bike if you have a clutch malfunction.  This particular clutch issue on select 2014 Harley models will likely not happen to many people and your hydraulic clutch will likely give you signs of problems before is completely happens.
Some news sources and blogs are blowing this recall out of proportion of course and scaring some riders.  Harley has to take it very seriously of course, because of law suits and attorneys.  And it should be taken seriously, because it can be a serious or fatal problem to some riders, depending on riding experience.
These things happen in a non perfect world and Harley is all over it and taking care of it as expected.  Chill out for now……..  If you are really worried, then Harley will come pick up your affected 2014 model, take it to the shop, fix the recall, and deliver it back to you.
The guys at my local Harley dealer said the new recall parts are supposed to be in on October 21, 2013 with instructions on what the mechanics need to do exactly to complete the recall.  They should get to fixing the effected 2014 Harley models as soon as possible after that date.
If your clutch will not disengage don't freak out. Here are some basic tips, but my advice is that of Harley-Davidson, which is not to ride your effected model until the recall work is done. These are just a few tips for any motorcycle where the clutch fails to disengage.
Turn engine switch to OFF immediately and use your brakes to stop.  Turn on hazard lights.
Or apply your brakes hard until your engine dies and then you will be stopped.  Turn on hazard lights.
Whatever you do, don't freak out and swerve into oncoming lanes or in front of other cars.
Your hydraulic clutch will likely give you signs before it stops disengaging completely, like rough shifting (loud clanking when shifting and jerking), so pay attention and get off the road ASAP if you notice anything unusual.
Below is the official Harley Davidson press release: (taken directly from their website)
MILWAUKEE (October 16, 2013) – Harley-Davidson (NYSE: HOG) is acting quickly to address  potential safety issues by voluntarily recalling certain 2014 Touring motorcycles equipped with a hydraulic clutch system that may pose a safety issue for riders and/or passengers. The recalls include a Do Not Ride notice to owners and a Do Not Deliver notice to Harley-Davidson dealers until the motorcycle is fixed.
"The safety of our customers is our highest priority," said Tony Wilcox, Harley-Davidson General Manager of Motorcycle New Product Delivery. "We have identified potential safety issues and are moving quickly to notify our customers and dealers. The inspection and repair of these motorcycles is extremely important, so it's critical that our customers with affected vehicles contact their dealers immediately. We apologize for this circumstance. The company is committed to correcting this issue and providing customers with the quality experience and service they expect.
"The recalls affect 25,185 Touring motorcycles, models FLHTCU, FLHTK, FLHTP, FLHX, FLHXS, FLHTKSE and FLHRSE, and 3,861 Softail® CVOs and Trikes, models FLHTCUTG, FXSBSE and FLSTNSE, built between May 3, 2013, and Oct. 14, 2013.Some of these motorcycles may exhibit a condition in which the hydraulic clutch system may lose the ability to generate enough lift to disengage the clutch.  If the clutch does not disengage as intended, the rider may have difficulty slowing or stopping the motorcycle, which could result in an accident. Harley-Davidson has initiated these recalls to correct the affected motorcycles.The company is taking the additional measure of issuing a Do Not Ride notice to riders given the potential safety issues. The company wants owners of affected motorcycles to contact an authorized Harley-Davidson dealer immediately to arrange for an inspection. The dealer will pick up, inspect and make the necessary repairs at no cost to the owner. The repairs have been identified and should take less than one hour.
Although the National Highway Transportation Safety Administration is closed as a result of the partial government shutdown, Harley-Davidson is proceeding with these voluntary recalls consistent with NHTSA's process.
About Harley-Davidson Motor Company
Harley-Davidson Motor Company produces heavyweight custom, cruiser and touring motorcycles and offers a complete line of Harley-Davidson motorcycle parts, accessories, riding gear and apparel, and general merchandise. For more information, visit Harley-Davidson's website at www.harley-davidson.com.
Don't forget to check out all the episodes of the Law Abiding Biker Motorcycle Podcast along with our many videos and blogs.  Join the Law Abiding Biker Community Today!!  Thanks for all our loyal listeners and followers support.  We are always humbled by the support and feedback we get.
Update 10/24/13:
I rode my 214 Harley Davidson Street Glide Special to my local dealer and spoke with the service manager in-depth.  I also looked at the exact parts that they are installing.  In the Harley Davidson recall kit that they have sent all dealers is a plunger and a gasket.  It takes about one hour and they install a new plunger into the master clutch cylinder.  They also remove your clutch inspection plate to inspect and make sure you have the correct pressure plate.  The gasket for the kit is for putting the clutch inspection (derby cover) cover back on after the inspection.  Good to go!