Podcast: Play in new window | Download | Embed
Subscribe: Apple Podcasts | RSS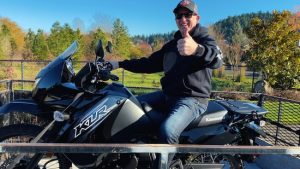 Having ridden street bikes for many years now, I wanted to also get into adventure and off-road riding. So, after much thought and research, I selected the Kawasaki KLR 650 as my first adventure bike. I found a nice barely used 2018 KLR for sale and bought it in the fall of 2019. Oscar and I drove from Washington to Oregon to pick up this little gem that looked like it just came off the showroom floor with only 109 miles on it.
Check out my video titled, "I Just Bought & Rode My First Adventure Motorcycle? Am I Hooked?"
The Kawasaki KLR had a long run from 1987-2018. Anyone who's been involved with any sort of adventure or dual-sport riding is very familiar with this bike and everyone has an opinion about it. The KLR clearly made it for so many years because so many riders liked it. There have probably been more international discovery rides taken by Americans riding a KLR than almost any other motorcycle.

The Kawasaki KLR was really thought as of the best all-around bullet-proof adventure bike for many years. I think it's safe to say that there are more aftermarket parts available for the KLR than any other bike in its class. Entire businesses have been built around making and selling parts for the KLR.
Now that the KLR is not being produced, you'll have to look for a good used one. There will still be plenty of used KLR's for sale and there are still a few brand new 2018 models at select dealerships, but that is fading. Oh, and don't worry, you'll be able to get aftermarket parts for the KLR for many years to come. Imagine how many Kawasaki KLR's are still around after 32 model years of production.
It will be interesting to watch and see if Kawasaki comes up with a replacement for the KLR to compete in this fast-growing category of lighter weight "do it all" dual-sport adventure bike.

Although the KLR's production run is over, it's not going anywhere in the adventure bike scene any time soon. I'll continue to enjoy and ride the heck out of mine!
Listen in to this podcast as we get into depth about the KLR and its history and give some predictions for the replacement of the KLR.
New Free Video Mentioned: 
Sponsor-Ciro 3D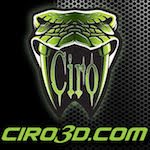 Innovative products for Harley-Davidson & Goldwing
Affordable chrome, lighting, and comfort products
Ciro 3D has a passion for design and innovation
Sponsor-RickRak

The Ultimate Motorcycle Luggage Rack Solution
Forget those messy straps and bungee cords
Go strapless with a RickRak quick attach luggage system & quality bag
New Patrons:
Greg Blue of Layton, Utah

Leo Lopez of Wildomar, CA

Michael Hayden of Scottsdale, Arizona