Podcast: Play in new window | Download | Embed
Subscribe: Apple Podcasts | RSS
PODCAST-In this episode we talk in length about the American Motorcycle Association's (AMA's) recent quiet decision to endorse motorcycle lane splitting, which is only legal in a few areas right now, such as California. Are there safety concerns with motorcycle lane splitting for the rider? Is it safer to allow motorcycle lane splitting to avoid other hazards? What are the other hazards that would be avoided by allowing lane splitting? What states may allow lane splitting and do other countries allow it? We answer these and many more questions during this episode. This is an issue all bikers/motorcyclists should get involved with and to learn the facts before making an opinion. We try to give you all the information in this biker/motorcycle podcast episode, so you can do so. You really must listen to the podcast to get all the necessary information.
A summary of the AMA position statement says: "Given the ongoing success of lane splitting in California and the recent enthusiasm for lane splitting and/or filtering in other states, the AMA endorses these practices and will assist groups and individuals working to bring legal lane splitting and/or filtering to their states." The AMA goes on to say, "Motorcyclists who oppose lane splitting should remember that it is optional in California. Permitting lane splitting is not […]the same as requiring it, so those opposed to the practice should consider the desires of other motorcyclists who believe they would benefit from it. Lane splitting is an issue of choice."
Motorcyclists encounter challenges from other roadway users and are constantly vigilant to unsafe conditions around them. One of the most dangerous situations for any on-highway motorcyclist is being caught in congested traffic, where stop-and-go vehicles, distracted and inattentive vehicle operators, and environmental conditions pose an increased risk of physical contact with another vehicle or hazard. Obviously, minor contact between a vehicle and motorcycle can be tragic for the motorcycle rider.
The Hurt Report1, the most comprehensive motorcycle crash causation study to date, noted that, "Moderate or heavy traffic was the situation at 59.2% of the accidents [studied]." Reducing a motorcyclist's exposure to vehicles that are frequently accelerating and decelerating on congested roadways can be one way to reduce front- and rear-end collisions for those most vulnerable in traffic.
In many countries motorcycle lane splitting is a very normal and accepted practice. It seems the United States is behind the times.
Allowing motorcycle lane splitting can provide an escape route for motorcyclists who would otherwise be trapped or struck from behind. There is evidence (Hurt, 1981) that traveling between lanes of stopped or slow-moving cars (i.e., lane splitting) on multiple-lane roads (such as interstate highways) slightly reduces crash frequency compared with staying within the lane and moving with other traffic. Motorcycle lane splitting likely offers a means of reducing congestion in addition to possible safety benefits.
For decades, California has been the only state to permit lane splitting. While not specifically permitted or prohibited in the California Vehicle Code, lane splitting authority comes from the California Highway Patrol. Of course all lane splitting should be done in a safe and prudent manner we believe here at Law Abiding Biker Motorcycle Podcast and Media.
So far, states other than California, including Nevada, Oregon, Texas, etc., have considered legislation to legalize some form of lane splitting, but none have been signed into law.
Additional Episode Information:
In this episode we had an email follow up to Episode #37 reference the Wild Atlantic Way in Ireland. Listener John O Keeffe of Ireland emails:
Great pod cast (37)…..Thank you for mentioning the wild Atlantic way. Just to answer some of your questions. There are several motorcycle retails in Ireland. However the only company renting Harley's is Celtic rider, they have Electra glides and fat bobs. They are situated in Dublin city which is the Capitol of Ireland. I'm living in cork city which is at the starting point or finishing point of the wild Atlantic way, depending on weather you start up north in Belfast with the IRA or in cork city! There is also a video on YouTube advertising the wild Atlantic way! Check it out.. Ps.. Tell the guys that the Guinness, Jameson and Bushmills never stops flowing in Ireland.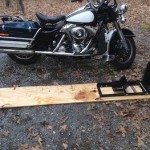 Next, we had a Law Abiding Biker Facebook Page post from listener Jim Dimitrious of Western KY. He sent a great idea on how to mount a motorcycle wheel chock. It looked like he used a 2 foot wide by maybe 6 foot long piece of plywood and bolted the motorcycle wheel chock to that. It looks like by the time the front wheel gets to the chock the back wheel is on the plywood, thus holding it down, so it doesn't slide (push) the wheel chock forward.
Keep the rubber side down and the shiny side up!