Podcast: Play in new window | Download | Embed
Subscribe: Apple Podcasts | RSS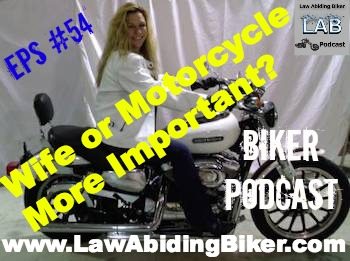 PODCAST-This is a packed episode and we cover many items. Has your spouse ever told you to choose between her/him or the motorcycle? We say, "Why not sell both?" We uncover a Craigslist post where a biker actually did this. He put up a post selling his 2006 Harley Davidson XL1200L Sportster along with his wife. The ad is hilarious and you really need to listen in on this one. The man say's he's entertaining cash offers and trades for either or both.
Want to call us and get your topic on the show or leave us feedback?
Need a motorcycle cell phone or GPS mounting solution Bikaholics?

That's right, Law Abiding Biker Media put our logo on these mounts & we personally use them on our motorcycles!

The sexiest, lightest, and strongest mounts available period.
Good prices and fast shipping from our store?
Check out our COMPLETE REVIEW
Motorcycle lift review from listener Bob Piazza:
Pittsburg Lift Model 68892

$319 from Harbor Freight (Be careful with Harbor Freight purchases)
Bob liked this lift
Bob says:
It is very stable at full height with my Street Glide. Also has tie down hooks to keep big bore top heavy bikes from tipping. Front wheel clamps works great on the forward most holes. I hooked the straps on the crash bar mounts and tightened them down.