Podcast: Play in new window | Download | Embed
Subscribe: Apple Podcasts | RSS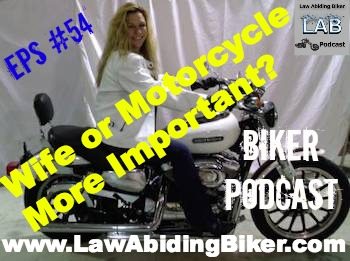 PODCAST-This is a packed episode and we cover many items. Has your spouse ever told you to choose between her/him or the motorcycle? We say, "Why not sell both?" We uncover a Craigslist post where a biker actually did this. He put up a post selling his 2006 Harley Davidson XL1200L Sportster along with his wife. The ad is hilarious and you really need to listen in on this one. The man say's he's entertaining cash offers and trades for either or both.
Want to call us and get your topic on the show or leave us feedback?
Need a motorcycle cell phone or GPS mounting solution Bikaholics?

That's right, Law Abiding Biker Media put our logo on these mounts & we personally use them on our motorcycles!

The sexiest, lightest, and strongest mounts available period.
Good prices and fast shipping from our store?
Check out our COMPLETE REVIEW
Motorcycle lift review from listener Bob Piazza:
Pittsburg Lift Model 68892

$319 from Harbor Freight (Be careful with Harbor Freight purchases)
Bob liked this lift
Bob says:
It is very stable at full height with my Street Glide. Also has tie down hooks to keep big bore top heavy bikes from tipping. Front wheel clamps works great on the forward most holes. I hooked the straps on the crash bar mounts and tightened them down.
Want to support us Bikaholics? Need some awesome tech gear?
Check out all the deals at B&H Photo Video
Photography, Video, Computers, Audio, TV's & more!
Most the time they have the best prices then Amazon.
Fast shipping!
Where I buy all my tech equipment for Law Abiding Biker Podcast & Media!
No additional cost to you, but we get a small commission for each sale.
Voicemail
From Loyal Listener Larry Baxter of Homer, AK

Reference lane splitting reference the Sworn Few LEMC's trip to California.
Username: Mrt1954 (United States of America)

5 August, 2014
Subjects: Great podcast!
Rating: 5 Stars
Lots of great, no BS, information.
7 July, 2014
Username: EMP_01 (United States of America)

Subject: LAB
Rating: 5 Stars
Good chemistry between the hosts with a nice change of topics. Great job guys.
August 5, 2014
Username: MySpreeCanPassU (United States of America)
Subject: "The greatest podcast EVER concerning club riding & harleys in the NW USA"
Rating: 5 Stars
This podcast typically has an ensemble cast, working under Ryan (the Prez). His skillful guidance keeps his co-hosts on track, eliciting clever comments and intelligent conversation on a wide variety of subjects. Ryan's copious (COPIOUS) show notes add another dimension to the audio content. His co-hosts include Cuz, LD, Lurch, Popeye, Oscar, and a few others. The Hi-Tech Redneck coagulates it all into a great podcast. Carry on lads.
Denis Moran of Browns Mills, NJ
Lavar Mathena of San Antonio, TX
Web Comment Discussed:
Hey Ryan, love your website and podcast. I just read your review of your 2014 SGS. I just bought a 2014 Ultra Limited and was bummed about the lack of being able to use windshield bags as well. But then I looked in my new 2014 parts catalog and they have a 3 pouch windshield bag for the 2014 touring bikes! The middle pouch is elevated so the vent isn't blocked. Anyway, keep the podcasts and videos coming. Ride safe brother.
Links and info:
Three-Pocket Fairing Pouch Harley Part #93300054A
$130 from HD
People not liking too much.

Taking over the anti head buffeting vent.
Wind hitting them in forehead etc.
For this reason I am not going to buy it
Don't want to screw the awesome anti head buffeting vent on the 2014 touring models
Here is link to reviews & to purchase the item: http://www.harley-davidson.com/store/3-pocket-fairing-pouch
Email:
Justin Halsall OF AMSTERDAM, The Netherlands
Hi Ryan & LAB co-hosts! I have been listening to your podcast for a while and really like it! I'm somewhat new to riding, got my license and bike in May and have enjoyed every minute I have been able to ride since then. Together with a couple friends I have been doing some tours around the country (the Netherlands) and I'm planning to do some more around Europe both with my friends and with my girlfriend on the back. I would like to know if you guys have any experience with any helmet communications systems to talk to your passenger and/or riding buddies. Is there anything you can recommend and should I pay any attention to anything in particular when going out to get one (or multiple) of these systems? Keep up the good work!
Answer:
I have heard good things about Chatter Box & Lurch has used them. He had good things to say.
Put this question to the community. Leave us a voicemail if you have a good answer and we will play it.
Want to support us Bikaholics?

No additional cost to you, but we get a small commission for each sale.
Where is the one online market you can get almost everything? Amazon of course!
Keep the rubber side down and the shiny side up!