By Bikers for Bikers
Video-In this video I show you some great action cam footage I captured with my GoPro Action Camera mounted to my Harley-Davidson motorcycle. I used the strongest, sexiest, and sleekest GoPro motorcycle mount on the market, the Biker Gripper. These motorcycle GoPro mounts are so versatile and can be creatively mounted to capture a ton of different angles. The mount comes on and off super fast with little effort, so you can spend more time riding!
I used the Biker Gripper GoPro mount system and mounted the camera to the top of my Harley engine guard. I could have mounted the GoPro more forward or back of course and it is all up to you and what you're trying to capture. Because the Biker Gripper GoPro mount system base is made of high-quality aircraft grade aluminum through a patent CNC process, the footage is solid and you'll see no vibration. Yup, made right here in the USA! By Bikers for Bikers!
The Biker Gripper GoPro mount fits current production round bar sizes from 7/8" (22mm) up to 1 1⁄4" (32mm) into one mount system. This allows it to fit virtually every handlebar on motorcycles, snowmobiles, ATV's, UTV's and other powersport vehicles. Requires only 3⁄4" of round bar space and can be mounted at any angle.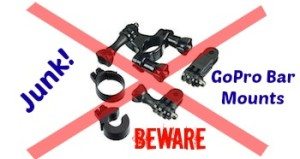 We tried over and over the cheap plastic GoPro brand bar mount system to only have many of them break after multiple uses & they take a ton of time to set up. In search of a real solution for bikers to mount their GoPro to their motorcycle, we introduced the Biker Gripper to the Law Abiding Biker™ Store.
The rest is history…………..
Join the Free Email Club!
If you appreciate this free information make sure to join the thousands of law abiding bikers that have already joined the free Email Club! You will be notified of new useful motorcycle content and techniques as we put them out. Join the Community now!