Podcast: Play in new window | Download | Embed
Subscribe: Apple Podcasts | RSS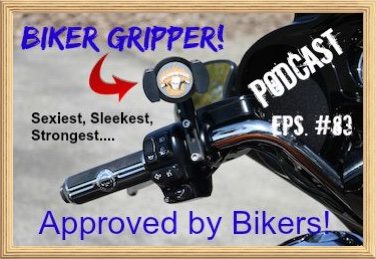 PODCAST-The Biker Gripper is absolutely the best cell phone/smartphone, GPS, EFI Tuner, and radar detector mounting solution on the market. We here at Law Abiding Biker™ Podcast & Media tested it for a long period of time, over thousands of miles, on different bikes, Mounted it in different positions,  and while holding different devices. Believe it when I say your device will not come out of the 18 lbs of grip strength the Biker Gripper provides.
Over several years the Biker Gripper went through a couple violent motorcycle crashes here at Law Abiding Biker™. First was my high side crash on my 2011 Harley Davidson Street Glide in Oregon. Yup, a complete high side after getting squirley in some gravel around a corner. My Harley was nearly totaled and laying on it's side. My iPhone did not move and was still secured and untouched in the Biker Gripper! That was my first  thought that we should put our logo on this thing and sell it in our own store to bikers who want the best. I totally believe the good Lord was watching over me when I high sided and it was a lower speed. I was flung like Superman into some soft powder type dirt just past the shoulder of the road! I had no real injuries to speak of.
Next, Chewy was riding two up with his wife on the back of his 2013 Harley Davidson Street Glide and slid low side. The bike slid away from them and violently smashed into a guard rail. The bike hit the guard rail so hard that it stood back up and traveled another 50′ or so along the guard rail before falling over again. It hit the guard rail so hard that one of his saddlebags exploded so to speak & the bike was just shy of being totaled with a bent frame. Chewy and his wife had road rash, but other than that they got out of it okay. Yup, you guessed it-in the Biker Gripper was his iPhone 6 Plus completely untouched! Now, I love the Biker Gripper, but I never imagined that it would stay in on such a violent crash, so it even surprised me.
We trust the Biker Gripper so much that we put our own Law Abiding Biker logo on it and our stamp of approval. It is truly biker tested and we carry it exclusively in the Law Abiding Biker Store. It is the sexiest, sleekest, and strongest cell phone motorcycle mount on the market. Don't settle for all the cheap ugly cell phone motorcycle mounts on the internet, eBay, and Amazon. If you want the best then the Biker Gripper Cell Phone, GPS, Radar Detector, and EFI Tuner motorcycle mount is for you!
You really need to listen in to this Podcast episode to hear the stories and get all the information.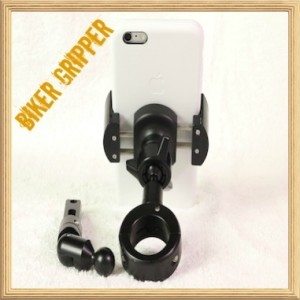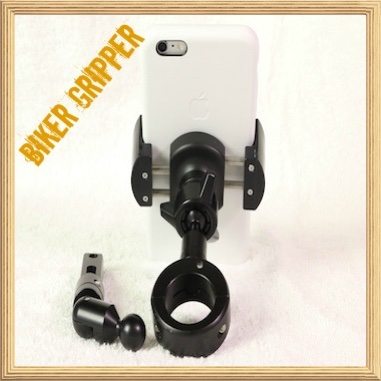 Our Custom Biker Gripper Cell Phone & GPS Mounts
Need a motorcycle cell phone or GPS mounting solution Bikaholics?

That's right, Law Abiding Biker Media put our logo on these mounts & we personally use them on our motorcycles!

The sexiest, lightest, and strongest mounts available period.
Good prices and fast shipping from our store?
Check out our COMPLETE REVIEW
New Patrons:
Benjamin Korver of Salt Lake City, UT

Ben Spardo of Centerville, Massachusetts

Rick Malcolm