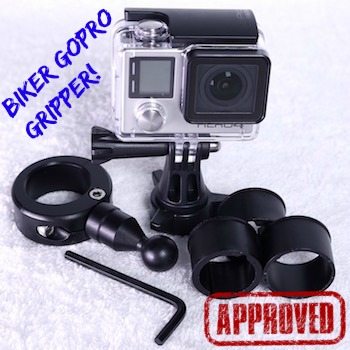 We film professional tutorial & review videos for bikers around the world here at Law Abiding Biker™ Podcast & Media. For many projects we rely on GoPro action cameras mounted to our motorcycles. I know bikers/motorcyclists out there also like to mount GoPro cameras to their motorcycles to share trips with friends and family.  For years I and other bikers have struggled with cheap junky GoPro motorcycle mounts all over the internet, Amazon, and eBay.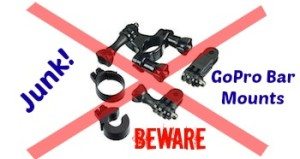 Yes, even the GoPro brand handlebar mount I am not a fan of. It is made of cheaper type plastic and has problems mounting to larger diameter bars. In time we have had several of these plastic GoPro brand mounts break at weak points and that is frustrating. Additionally, the GoPro brand bar mount system is clunky and it can often become a task getting it set up with the thumb screws.
Further, there is a rubber sleeve inside the bar mount in an attempt to keep it positioned on a bar.  When you turn the mount to fix your GoPro to the position you want, it binds up and folds over. Because the plastic is weak it flexes, which can cause unwanted vibrations or camera movements.  These are just a few of the struggles we have all had with the GoPro brand bar mount system.
So, out of frustration the journey began for me……….I knew that I needed to come up with or find the best solution for bikers to mount their beloved GoPro cameras to their motorcycles. Clearly all motorcycles have handlebars and many have more bars than that, such as engine guards, saddlebag guards, and luggage racks just to name a few. Many of these bars are different sizes and that certainly needed to be taken into account. Bikers can also be rough on things, so it has to be sturdy. It needed to be the strongest GoPro motorcycle mount in the world. Many were rigorously tested over much time and many failed.
The Winner of the Best Motorcycle GoPro Mount! Biker Tested & Biker Approved: