Podcast: Play in new window | Download | Embed
Subscribe: Apple Podcasts | RSS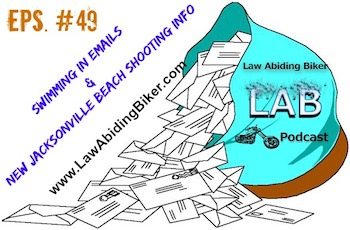 PODCAST-Get ready to dig deep into the email bag on this episode bikaholics! We have been so busy covering other topics on the podcast that the emails have been stacking. We cover an array of things that are a directly result of emails we have received. We really appreciate the emails everyone, so keep them coming. You can send us an email or leave us a voicemail anytime!
I start out with an announcement reference the fatal biker shooting that occurred on June 26, 2014 around 8:00 PM outside Nippers Bar Grille in Jacksonville Beach, Florida. We covered this in depth on Episode #48, so check it out.
After that episode aired I was contacted by a high ranking official of the Iron Order Motorcycle Club (IOMC) and that speaks volumes for the Iron Order Motorcycle Club. The official was appreciative of our fair and balanced coverage of the shooting incident. This high ranking official is very open to an interview right here on the Law Abiding Biker Podcast. However, he wishes to wait until the true facts of the fatal biker shooting are released to the public. The Iron Order MC does not wish to interfere with the Jacksonville Beach Police Department's or the State Attorney's Office ongoing investigation. As a President of a motorcycle club myself, I must say that I would likely make the same decision. It is stated by the IOMC official that they are in fact a "law abiding biker" motorcycle club. Over the years that has certainly been my perception of the IOMC based on my personal contact with members.
The Iron Order MC does have a very open website with pictures of members and exactly what they stand for. They are not secretive at all. Of course, that is completely unlike outlaw motorcycle gang websites that contain very little or no information. OMG's obviously have much to hide, so they can't be open like law abiding biker clubs on their websites.
I did learn from the official that the Iron Order MC member that was involved in the fatal shooting was never in custody, booked into jail, and is free right now. Also, I may have stated that Nippers is a "bar" in Episode #48 and I was incorrect. Nippers is described as an upscale family restaurant. The patrons and many witnesses present that night were not bikers and were families and children. We must let the legal processes take place and know that the videos, witnesses, and forensic evidence in this case will reveal the truth in time.
So, look forward loyal listeners to an upcoming interview with the IOMC Official after the facts are released. We will of course keep you up to date on this situation as it unfolds in the meantime. We will let you know of any information that appears to be valid in nature. Again, I caution you to be very careful about where you get your information on the matter. There are some internet trolls out there reporting on the incident with no actual information, who are obviously very biased. If a source is already judging one side or the other without much information then that should probably be a red flag that they have an agenda.
Emails, YouTube, Website Comments, Purchases
Email 1
Johnny Galloway of Sydney, Austrailia

Hey guys, Just a quick note to say hello from Sydney Australia. I have listened to all of your podcasts which I really enjoy, funny and informative.Also find the YouTube videos very helpful. I ride an 08 Superglide and try to do as much work on it as possible as the Harley dealers in Oz are VERY expensive..There is a lot happening in the Australian bike scene at the moment and am happy to keep you guys updated from time to time if you are interested.Keep up the great work..JohnnyG….

My Response:

I really appreciate the contact! I'm super glad you like the podcast & videos. To give me an idea of how expensive Harley dealers are in your area; what does a regular service oil change cost?I would love it if you kept us up to date on everything that is going on over there with the biker scene. We can even talk about it on the podcast!
Email 2
John Stevens, US Navy, Retired Kenosha, WI

nice videos. not only enjoyed your bike maintenance videos, but then stumbled across a colt m4 cleaning video. stay safe on your bike AND in your profession!

He is Speaking of AR-15 cleaning video at (https://www.lawabidingbiker.com/cleanmyar15)
YouTube
New comment a YouTube video "How to remove install rear wheel tire of Haley Davidson Motorcycle" www.lawabidingbiker.com/rearwheel

Walter Duryea (also donated) Thanks for the video. I have done my '04 Dyna Super Glide before so I used the video as a refresher when I changed tires on my new (used) '06 Wide Glide, The Bike only has 14, 000 miles on it but the axle was a bear to remove. I soaked it with penetrating oil, used an old nut on the left side and had to pound the living daylights out of it. It was a corroded mess. Emery cloth and some elbow grease solved the problem and I reassembled it with a good dose of Anti-Seize. I'll be throwing a few shekels your way for the video.

MY RESPONSE: Thanks for the DONATION wtduryea! I'm really glad you liked the video. Wow, that sound like a bitch of an axle to get out. You bring up a good point for bikers watching this. Make sure your axle always has plenty of Anti-Seize grease on it. Put some extra on when you put it back on. Thanks for everything and ride safe.*
Email 3
VIA EMAIL AFTER PURCHASING BOOM BOX SOFTWARE UPDATE VIDEO www.LawAbidingBiker.com/BoomBoxSoftware
Thomas Medeiros of Hawii
Aloha from Hawaii……Ryan your video was very helpful and I learn a lot from it, I will keep you in mine and on my lap top. I just bought a 2014 Harley Davidson Tri Glide Trike. I had a 2013 same trike and love it. If you are ever in Hawaii please let me know would like to take you around or ride around the Island have same lunch and dinner. Thanks for all your help, keep up the good work.
Email 4
VIA EMAIL AFTER PURCHASING HARLEY MAINTENANCE VIDEO www.LawAbidingBiker.com/2014HarleyMaintenance
Tom Carter: Hi Ryan, The video was great and very complete. My only question is how to check the primary oil level. I have enjoyed your videos in the past and this is the first one I have purchased and I am glad I did. I have done my own service and was never quite sure I did things right. Now I am. Your video was one if not the best How to video I have seen. Great detail and very good picture. Thanks again Keep up the good work.
MY RESPONSE: Thanks so much for the feedback brother!! I'm very glad you liked the video.The only way to check the primary drive oil level is by visual inspection w/ the bike level & a flashlight. You must have the clutch inspection (derby) round cover off. The oil should be about 1/4 inch over the bottom of the clutch plate.
Email 5
From Ron Houle of Apple Valley, MN (Minnesota)
Purchaser of the Ride Planner Video https://www.lawabidingbiker.com/RidePlanner
Enjoyed you video on the 2014 Boombox and HD Trip Planner. I have add limited success with the Planner/Boombox, it has transfered from the memory stick to the Boombox but the route doesn't always work, maybe its the preference setup. New problem, I'm getting an error message when trying to importing Trip Planner file, "Import Fail, Could Not Query NAV Date Base". Any suggestions.
FOLLOW UP EMAIL HE SENT: * I called customer service at Harley, they had me do a master reset because it was confused, it fixed the problem.*
Email 6
Talking about Ride Planner video www.LawAbidingBiker.com/RidePlanner
David of Haddon Heights, NY: hey ryan-how many 'stop over/way points/additional destinations can you set up for a trip? some systems allow up to 10–also can you import trips from google maps or map quest?
Email 7
Reference our new App. https://www.lawabidingbiker.com/app
From Greg Gaxiola: Followed the simple instructions for my iPad installation for the free Podcast Box app and then searched for Law Abiding Biker and clicked on the in app purchase for $2.99 and it works great. I like it way better than Sticher Radio because it is truly customized to the LAB podcast content and the show description (notes) is automatically displayed with a professional looking background, is very detailed and can be read while the podcast is being played. Thanks for making this available!
Email 8
From Devin Orr Fort Bragg, NC
HE REFERENCES EPS. #38; Belt final drive vs. Chain final drive https://www.lawabidingbiker.com/38
Your POD Cast for the Belt drive vs. chain drive was very informative. Really appreciate that! Now I have another question. Can you, or have you done one that covers the chain drive or open belt primary drive? What are the differences? What are the pro's and con's? I am thinking about installing 3.35″ Open Belt Primary Drive Street Style for Harley-Davidson from Demon cycles SKU: Open Primary 58730, made by Ultima. I have posted the link below. I own a 2005 Harley Davidson Night Train. I have thought about doing this for a while, but I am concerned that once I install one, I am not going to like it.
Email 9
From Gregg Anderson of Englewood, OH
Ryan, Apprecieate your direct and honest approach to teaching us motorcyclists how to do routine maintenance on our bikes. You give me the confidence to do it first of all, and it saves me money to boot. Could you answer a few questions I have about changing the oil on my 2011 HD Superglide Custom? 1. What are your thoughts about using Mobile 1 mortor oil? A fellow HD owner says it allows his bike to run ~10 degrees cooler. If Mobile 1 is OK in your estimation, what grade of Mobile 1 would you recommend? 2. In the video I watched, your friend used a torque wrench to tighten the screws on the Derby cover. What brand of torque wrench was that? Any recommendations as to what wrench to buy? Did it use a 1/4″ drive? Would you like to have both in-lbs and newton-meter scales on the wrench? Would you prefer a wrench that once it reaches the torque setting and clicks that it no longer can tighten, i.e. it turns freely after that? Or does it matter?
MY RESPONSE: Thanks for the contact and feedback brother. o answer your question about lubrications listen to our in depth Law Abiding Biker Podcast Episode #26 on this matter. It will answer all your questions about oils, weights, and Mobile 1. There is also an in depth blog there I wrote. ==> www.LawAbidingBiker.com/26. I use Craftsman tools (Sears), which is the torque wrench you saw. That one is a 3/8 inch drive. I would suggest getting a 3/8 inch drive torque wrench that reads inch pounds (likely will have Newton Meters on it too.) Then get a second larger 1/2 inch drive torque wrench reading in foot pounds for larger projects. Once my wrench reaches the torque setting it clicks and then will turn after that. It seems to work fine for me. I just stop at the click. Hope that helps…
Email 10
William Weisspfennig Jr Of Punta Gorda, FL
Gunfighters V.P 1st Gulf Chapter,FL
First off I love the program that i happened to stumble upon a couple of months ago,so keep up the good work . Ryan I'm in a LE MC called the Gunfighters in FL and I'm the the VP of the !st Gulf Chapter. I was looking through past Podcast trying to remember what program your clubs uses to communicate with on your smart phone. I remember you were stating it was easy way to communicate with everyone in the chapter. Are Chapter is looking for a better/ easier way to communicate with each other. If you could send me the information/ name of the app that be great. Respectful Weissazz
REFERENCE EPS #32 https://www.lawabidingbiker.com/32
Keep the rubber side down and the shiny side up!