Podcast: Play in new window | Download | Embed
Subscribe: Apple Podcasts | RSS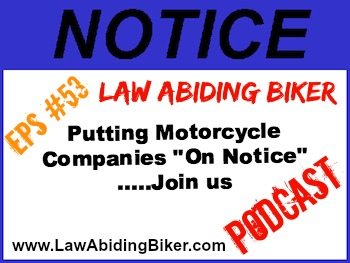 PODCAST-We have a very large listenership, which continues to grow. We owe that to the Law Abiding Biker Community! We certainly hope that it is because we put out content bikers want to hear & work very hard at this thing. You have all heard us talk about motorcycle products and companies and because of that these companies have cashed in and sold many items. We think is time these companies start giving back to the biker community. So, we are going to respectfully put companies we believe in "On Notice" from time to time. That means we are calling them out and we hope you join in with us. These companies should be sponsoring the very popular Law Abiding Biker Podcast and YouTube Channel.
Opening Solo:

Additionally, we believe some coupon codes and such would be nice for the biker community. Remember, the motorcycling majority (the 99%ers) are the reason these companies thrive. We spend a ridiculous amount of money on motorcycle's and motorcycle related products. We can certainly choose where we spend our hard earned money and that should only be on companies that are willing to give back a bit and recognized the importance of their customers & the biker community. Some of these companies have been asked, but at this point have decided not to support us or you yet. Let's make them realize how large we are.
We strongly encourage you to help us by clicking these company's social links below and calling them out publicly with us. By helping us you can assure this content keeps coming your way and more often. The biker community has a ton of power if we all get together.
Say something like this: (cut & paste if you like)
"[Put the Company's Social Media Name Here] should be supporting the Law Abiding Biker Podcast & YouTube Channel & the biker community is watching: http://www.lawabidingbiker.com"
Here are the companies we are calling out today along with their social media links:
DynoJet Research (we have asked, but they have not yet stepped up yet)

We have done several videos and blogs, thus selling a ton of units for them.

Vance & Hines (we have asked, but they have not stepped up yet)

We have sold a ton of Twin Slash Round pipes along with others for them. I get many emails with bikers advising me they have purchased pipes because of our content.

Kutter Harley Online (we have asked, but they have not stepped up yet)

I have spent a ton of money here and sent many bikers in the community to them. They have awesome prices and good customer service.
New FREE Videos:
This listener email became the Main Topic:
Bryan Roger of Naples, FL


"I was wondering if you could mention Tires in your next podcast. (Tire pressures, loss of pressure with cold and heat. Milage you would expect to get out of a set. Low profile vs regular. Like on our SGS.)"
Voicemails left by: (listen in on the episode)
Donation Thanks:
Kirk Gonzales of New Castle, DE
Manuel Villarreal of McAllen, TX
Gary Ingram of Cricklewood, London, England
Web Comment
Joseph Reyes

"Hey Ryan, you guys are putting some awesome stuff out there! Keep up the good work! My question for you is what air breather did you go with on your 2014 SG? I myself have a 2014 SG special in denim black and looking to change out exhaust and air breather. I've pretty much made up my mind on V&H dresser duels and CFRs. I've also decided to go with the dynojet power commander V. Which I'll defiantly be purchasing your installment video.The only thing I'm not sure about is the air breather. I like the Roland Sands Design black ops turbine air filter, just cause it looks good. I've read some bad reviews about it filling up with oil and it leaking. I want to get your thoughts on everything. Thanks and again, keep up the good work."

MY RESPONSE:


"I actually like the stock air intake on the SGS and am going to leave mine as is. My SGS has great performance with the V&H Twin Slash Rounds ( https://www.lawabidingbiker.com/twinslashrounds), EFI map download, and the air intake. It just runs so great and I don't mind the looks of the stock intake. On past bikes I changed the air intake for some performance, but mostly looks. Unless I did something more to the bike I don't think any aftermarket intake is going to give me any performance I would notice. It would be strictly a "looks" deal if I ever change my mind."